Tanzania is one of Africa's most sought after travel destinations. With Mount Kilimanjaro as a top selling point, along with a host of national parks like the Serengeti and Ngorongoro Crater, and its famous islands such as Zanzibar. Tanzania truly is a dream come true on any overland adventure or budget safari.
Kilimanjaro
At 5895m, this dormant volcano is Africa's highest peak. Every year floods of people come into the gateway town of Arusha to begin for their departure up Kilimanjaro. A variety of tour options cater for hikers of different fitness levels but to summit this mountain is no walk in the park. Hikes usually take between 5 and 15 days with a possibility of 7 different established routes. For those not wanting to scale the huge peak, you are able to explore the beautiful park located at the base of the mountain.
Serengeti National Park and Ngorongoro Crater
The most popular park in Tanzania, the Serengeti is truly a wondrous site. Once a year visitors are blessed with the experience of a life time. The great migration. Wildebeest, zebra and gazelle move from the Serengeti up North into Masai Mara National Reserve in order to find greener pastures. The wildebeest alone move in numbers of over two million. For an amazing view you can even take a hot air balloon to get a bird's eye view of this breath taking spectacle.
The Ngorongoro Crater is the world's largest unfilled, intact, and inactive volcanic caldera in the world and is located just next to the Serengeti. It is a world heritage site and its highlands are filled with an abundance of animals.
Dar es Salaam and Zanzibar
Dar es Salaam is commercial port and a major city of Tanzania, it is also the gate way to the Zanzibar island. Dar es Salaam hosts a great deal of cultural activities including tribal dancing and fossils of some of our earliest human ancestors.
Zanzibar is the island highlight of Tanzania and a not to be missed trip on a ferry to this beautiful sandy paradise. With its white sands, endless coral reefs, palm trees filed with coconuts and secret picnic spots, Zanzibar is the ultimate relaxation destination. Boasting both lagoons and beautiful ocean waters to swim in Zanzibar is all you could ask for on an island adventure getaway.
Your Tanzanian trip will not be short of adventure and excitement. To be sure you make the most of it read more on our overland adventures and budget safaris that travel through this major hotspot.
ARUSHA
The dramatic city of Arusha offers you the gate way into many of Tanzania's best destinations like the Serengeti or Kilimanjaro. Read more below for overland adventures and budget safaris exploring this city.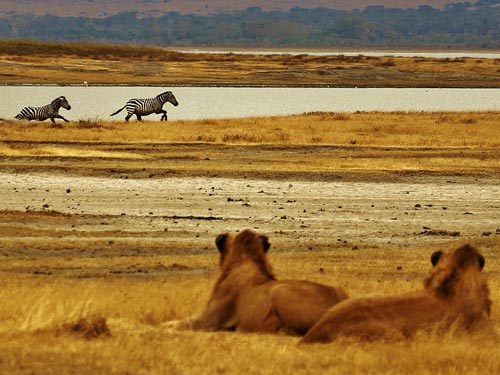 SERENGETI NATIONAL PARK & NGOROGORO CRATER
The flagship reserves of Tanzania, world renowned and abundant with wildlife. No trip to Tanzania is complete without experiencing a budget safari or overland adventure through these unique destinations.
DAR ES SALAAM
The great port city of Tanzania with its rich cultural history and beautiful beaches is also the gateway to Zanzibar. Read more below to see what overland adventure we have on offer.
ZANZIBAR
A tropical island paradise with rich cultural history and white sandy beaches like you have not experienced before. Our overland adventure have various option that include visits to this must see island.
Are you planning a trip to Africa, but you are not sure what you want to do? Don't worry, we have put together a bucket list of the top "not to miss" attractions just for you! This bucket list contains some of the most wonderful places in Southern Africa and East Africa, including amazing countries like South Africa, Namibia, Botswana, Zimbabwe, Mozambique, Zambia, Malawi, Tanzania and Uganda. Our top 10 African experiences range from gorilla trekking in Uganda, to hiking up Dune 45 in the desert of Namibia, and searching for the big five in Kruger National Park. Start reading [...]

Nearly half of our planets population (more than 3 billion people) are living in high, medium or low risk malaria areas. Even though there has been a massive progress in curing and preventing this disease, it still causes many deaths each year and unfortunately most of them are here in Africa. When you're on a holiday you really don't want to have to worry about something as unpleasant as malaria, but at the same time you want to keep the risk of contracting the disease as low as possible. Here are a few steps to help prevent Malaria:  ABC(D)- prevention Awareness of the risk. [...]

Yellow Fever Vaccinations are the only recommended way to make sure you don't contract Yellow Fever. Yellow fewer, like malaria, is a disease which is passed on by mosquito bites. It appears in tropical areas of Africa as well as in Central and South America. Most common Symptoms of yellow fever are: • fever • muscle pain • headache • nausea • fatigue • jaundice • vomiting While yellow fever is a rather nasty and dangerous disease, it is very easy to prevent contraction. Before you visit a country with high risk yellow fever areas, get a Yellow Fever Vaccination! They are [...]

Please note that maps shown are a rough guide. Exact locations and routes might differ slightly to what is shown. Please refer to the tour itinerary for a more precise route.