SERENGETI NATIONAL PARK & NGOROGORO CRATER
The Serengeti National Park is a jewel in the crown of African national parks.  Located in north western Tanzania, bordering Kenya, this World Heritage site is also one of the 7 Wonders of the Natural World. The Park is a vast expanse of almost 15 000 square km's, boasting riverine forest, grassland and savannah plains.
The Masai lion, African Leopard, African Bush Elephant, East Black Rhino and African Buffalo make up the Big Five which are ever-present in the Serengeti.  Other animal and bird species are quite prolific and too many to highlight.  An overland wildlife safari is the main reason for visitors to explore this amazing region and predators are best viewed between June and October.
Best experienced during July through to October, the annual wildebeest migration is a sight to behold – particularly from the air.
Helicopter trips as well as the more peaceful hot-air balloon excursions offer a spectacular viewpoint of this migration of over two million wildebeest, zebra and antelope from the Serengeti, to the lush pastures of the Maasai Mara National Reserve in Kenya.
A neighbouring conservation area and another World Heritage Site is the Ngorongoro Conservation Area and home to the large volcanic Ngorongoro Crater – said to have been a volcano higher than Mount Kilimanjaro before imploding on itself and forming the crater.  Meaning "Gift of Life" the Ngorongoro region is one of Africa's most stunning regions.  Not only is it home to a very high density of black rhino and elephant, the Maasai and other tribes live in peace in the idyllic area.
As a safari and overland adventures destination, The Serengeti and Ngorongoro are definitely a must. Allow Ashanti Travel Online to assist you with booking a Tanzania budget friendly holiday with a variety of options available.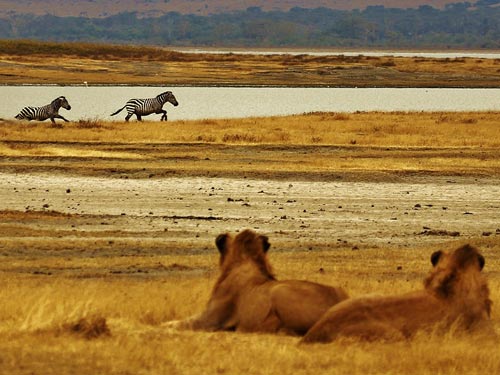 For everything there is a first time! This is probably the first-ever wild lioness nursing a leopard cub. This happened in Tanzania in the Ngorongoro Conservation Area, the pictures were taken by Joop van der Linde on Tuesday 11 July. The lioness, who is locally known as Nosikitok, has probably lost her own cubs and then found this baby leopard. She is part of a tag and track project which is why she has a collar around her neck. The likelihood that the wild lioness will continue to take care for the leopard cub is thin. If the rest of [...]

Are you planning a trip to Africa, but you are not sure what you want to do? Don't worry, we have put together a bucket list of the top "not to miss" attractions just for you! This bucket list contains some of the most wonderful places in Southern Africa and East Africa, including amazing countries like South Africa, Namibia, Botswana, Zimbabwe, Mozambique, Zambia, Malawi, Tanzania and Uganda. Our top 10 African experiences range from gorilla trekking in Uganda, to hiking up Dune 45 in the desert of Namibia, and searching for the big five in Kruger National Park. Start reading [...]

Yellow Fever Vaccinations are the only recommended way to make sure you don't contract Yellow Fever. Yellow fewer, like malaria, is a disease which is passed on by mosquito bites. It appears in tropical areas of Africa as well as in Central and South America. Most common Symptoms of yellow fever are: • fever • muscle pain • headache • nausea • fatigue • jaundice • vomiting While yellow fever is a rather nasty and dangerous disease, it is very easy to prevent contraction. Before you visit a country with high risk yellow fever areas, get a Yellow Fever Vaccination! They are [...]

Please note that maps shown are a rough guide. Exact locations and routes might differ slightly to what is shown. Please refer to the tour itinerary for a more precise route.