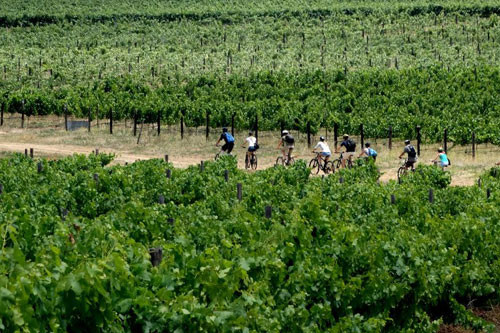 Want to get out of the city and explore the peaceful town of Stellenbosch? This quaint student town is famous for its wine, its tree-lined streets, Cape Dutch architecture and chic cafes and art galleries. What better way to appreciate South Africa's Dutch colonial history than a guided cycle tour through the leafy suburbs and period houses of the Village Museum, with stops at two award winning wine farms along the way?
This cycle tour includes commentary from experienced guides on the rich history and culture of the "City of Oaks," and a traditional South African braai lunch at one of the wine estates, surrounded by vineyards.
Just 45 minutes from Cape Town, with a free shuttle from the city included, what are you waiting for?
Cycling the Winelands
A fully guided cycle around the historic town of Stellenbosch.
We will visit 2 award winning wine farms along the way.
You will also stop for a traditional South African braai lunch at one of the wine estates whilst looking out over the vineyards.
This includes
Shuttle transport from Cape Town to Stellenbosch and back (Mon-Sat only) *this is complimentary service and does not affect the price of your tour if you choose to self drive
bicycle & helmet rental,
snack en route,
traditional "braai" lunch,
all wine tastings
a bottled water.
This excludes, gratuities and any additional wine purchases made on the day
How do I get there?
We have a shuttle running from our central office in Cape Town. Should you wish to drive yourself to the bike shed we will send you directions in your tour confirmation. Alternatively, please request a hotel pickup when making a booking Transfer fee Will Apply depending on location.
What do I need to bring with on tour?
Bring yourself, friends, comfortable shoes, a small backpack, sun block, money for lunch & wines and a camera.
Safety?
Our cyclists' safety is a major priority for us and all care is taken to ensure that each cyclist is comfortable and that our equipment is constantly maintained. Guests will be accompanied by our friendly and capable guides from beginning to end who will be happy to assist in any way to make your experience as enjoyable as possible.
R735
Includes:
Transport from Cape Town to Stellenbosch and back, Bike & Helmet rental, Snacks, Braai-Lunch, Wine Tasting and Water.
Excludes:
Gratuities, Beverages and Wine Purchases
Please note that maps shown are a rough guide. Exact locations and routes might differ slightly to what is shown. Please refer to the tour itinerary for a more precise route.