So you finally make it to the tip of Africa and of all the things you plan on experiencing, on your list of must-dos and must-see's is South African food. In this post, we have nominated ten traditional South African foods that you must try.
Biltong takes the number ten spot – not because it is the least delectable of traditional South African delicacies, but rather because it has strong ties to its distant relatives "jerky" or just "dried meat". It can be produced from a variety of different meats such as beef, ostrich, Kudu and other game. Biltong enthusiasts season it with salt or otherwise fiery seasonings including chilli.
Certain restaurants also use traditional Biltong shavings as pizza and burger toppings.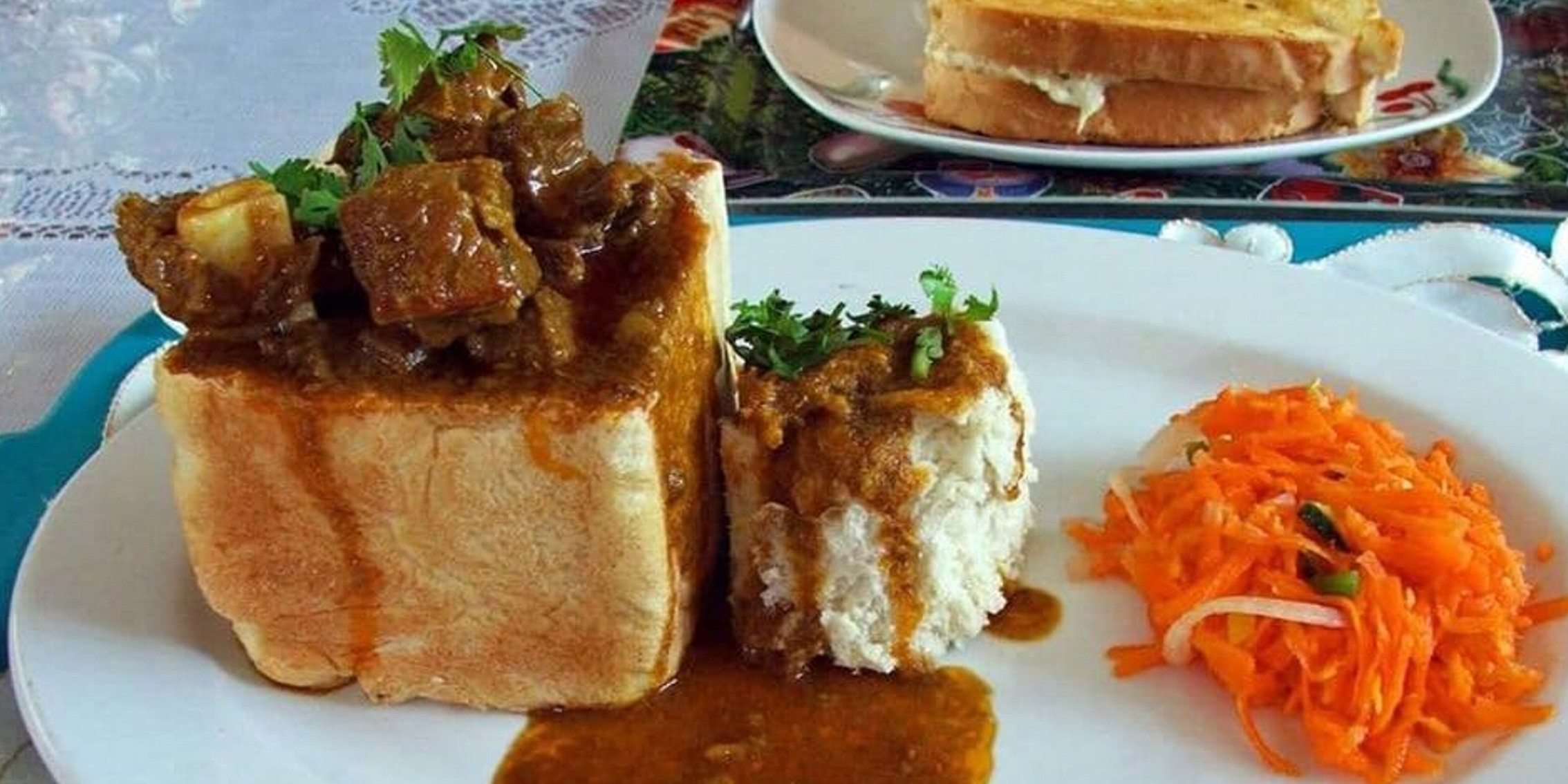 Variants of the bunny chow can be found all over South Africa but it originates in Durban. Trevor Noah (Another product of South Africa) once said that Durban contains the highest population of Indians per area outside of India. How true this is, we are not entirely sure but the culture, cuisine and population attest to this fact. The bunny chow which has Indian roots is a popular South African food.
It consists of either a bean, lamb, beef or chicken curry poured into a hollowed-out slab of bread and is available in the sizes halve or quarter. The bunny chow's heat levels (spiciness) can be adjusted according to taste.
The bunny chow is a must-do.
I once heard someone describe pap as the most unoffending meal ever, be that as it may, it is the most common traditional black South African food. Pap is concocted from maize (like polenta) and while the name and the cooking style of this staple may differ as you navigate your way through Africa, its main ingredient is always maize.
This staple is normally served with meat and gravy, stews and curries. Some subcultures cook it till dry while others process it to a point where it has a gelatinous consistency.
Take note that this dish is a filling one that will keep the pangs of hunger away for hours.
Similar to but not quite the Jan Ellis Pudding
The Malva Pudding is believed to have originated in the Netherlands and made its way down to the Cape with the families of the VOC in the Mid 1600s. Today you will find that it is common on dessert menus throughout SA as is one of the more popular traditional South African desserts.
It is a flour-based dessert with a soggy texture served hot and more often than not containing traces and flavours of apricot jam.
What is traditional boerewors? It is the South African equivalent of sausage or wurst and as its name dictates, it hails from the Boers who are descendants of the Dutch. An outstanding feature of this meat product is that it is usually made from ground beef and flavoured before it is stuffed into its casing.
It is a standard feature of every braai. Look out for this, and no – there are no vegan substitutes that measure up. (Sorry)
South Africa is an integration of diverse cultures; one such culture is the Cape Malay. These folk are distinctive in appearance and their cuisine has influenced the food cultures of The Mother City for over a century.
Traditional Bobotie is one of the most iconic Cape Malay dishes, not only in Cape Town but the rest of South Africa too.
It is a combination of sweet and savoury as it combines the contrasting tastes of mince, custard and chutney. Bobotie is usually served on rice and with Mrs Balls Chutney as a condiment. Though it is a Malay dish it is not spicy.
If you are a vegetarian you are in luck. Chakalaka is a vegetable relish that is normally spicy and served either with pap, bread or other local starches along with meat. It normally consists of onions, tomatoes, beans and other garden greens. The name has African roots and like the rest of the dishes on this list, it is typical traditional South African cuisine.
Braaing is a method of cooking that is similar to barbecuing. The difference is that the Braaier usually has a beer in the unoccupied hand and the meat portions on the grid are rather large and decadent. While it is a carnivorous feast, traditional South African Braai salads are served on these occasions. On the braai, you are likely to find chops ( pork, beef or lamb), traditional boerewors, chicken wings, and breasts. Please do not refer to a braai as a barbecue. If you do, you will be corrected.
Once again, we have a dessert. Melktert is an Afrikaans traditional food and the name means Milk Tart; pretty self-explanatory hey? Here goes anyway: It has a sweet pastry-like crust at the bottom and a custard filling. Rather try it before passing judgement.
Potjie, like Braaing, is a method of traditional South African cooking. This happens outdoors over a wood or coal fire in a cast iron three-legged pot. No extra water is added to the pot and it is not stirred until just before it is time to dish. The process of cooking a Potjie is a slow one and can take up to four hours. But because the meat and vegetables simmer in their own juices, it becomes a very flavoursome stew. If you find yourself at a table where a Game Potjie is being served, even better.
In Closing
It's been a while since the lockdown forced businesses in the hospitality industry to minimise certain aspects of their trade. One of those aspects for Ashanti has been the bar and cafe function.
However, in October 2021 the cafe reopened. The Kumasi Cafe at Ashanti Backpacker Lodge now serves breakfast and light meals at dinner. Click here to see what food is on offer or see below for our other products and services.
Author: DaveM
Breakfast Chef, Bartender, Writer @ Ashanti