2016 is coming to its end and that means that we will be hitting the new year Soon. The end of this special year has to be celebrated of course. There are endless possibilities when it comes to events on New Year's Eve in Cape Town. We will be naming a couple of awesome places and cool parties to help you start 2017 the right way.
New Year's Eve at V&A Waterfront
We are starting this list with a NYE party at one of the most famous places of Cape Town. And to make it even better, the party is free. During this year's V&A NYE party the theme is carnival. The Waterfront will be filled with different areas with amazing music and cirque performances. There will also be a beautiful firework show of course.
Costs: free
Location: V&A Waterfront
Rezonance New Year's Eve Party Cape Town
Is just one night to celebrate the end of 2016 and the beginning of 2017 not enough for you? Rezonance might be the perfect party for you. This 4-day festival, with 4 stages with different types of music, is held at a new location this year. The festival starts on the 30th of December and finishes January the 2nd.
Costs: R620
Location: Pat Busch Mountain Reserve, about 2 hours out of Cape Town.
Kinky Summer New Year's Eve Party
Are you already dreaming of the new year? Than go to La Paris Estate in Franschoek on the 31st and enjoy yourself at this lush paradise. The festival starts at 12pm, so you can enjoy the pools while listening to chill vibes. With international DJ's and South African talent, it will surely be a good place to end your year.
Costs: R550
Location: La Paris Estate in Franschhoek, about an hour out of Cape Town.
New Year's Eve Concert at Kirstenbosch
The whole summer long the Kirstenbosch botanical gardens hosts concerts in their beautiful gardens on Sundays and special one is held on Saturday the 31st of December. During this end of the year concert Johnny Clegg and Slow Jack will be performing beautiful live music. The concert starts at 8:30pm instead of the usual 5pm.
Costs: R375
Location: Kirstenbosch Botanical Gardens
Beefcakes New Year's Eve party
If you want to end the year as fabulous as possible, Beefcakes is the place to go. This bar, that is known as Cape Town's premium gay bar, is organising a dinner with show and a midnight countdown. This is the perfect place to start the evening and you can easily walk from Beefcakes to other parties in the pink strip. Make sure to book a table as space is limited.
Costs: R250
Location: 34 Somerset Road in Greenpoint.
HQ New Year's Eve Experience
Go to HQ and celebrate the New Year between flowers, palm trees and colourful birds with its Tropical NYE Experience. During this evening with a 3-course menu and a party after dinner you will feel like you are celebrating the New Year on a tropical island. So, make sure to put on your flowery shirts and hula skirt, this way your tropical cocktail will taste even better.
Costs: R700
Location: HQ on 100 Shortmarket street.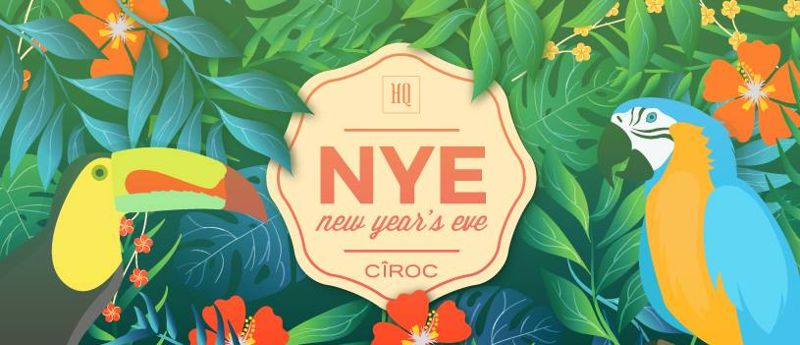 PACHA Ibiza Party
Do you want to end 2016 the Ibiza way? Pacha returns to Cape Town once more to end the year with a blast. Dance the year away with amazing tunes from national and international DJ's. A Pacha party isn't complete without Pacha dancers, so Pacha sends some of its dancers over from Ibiza to make it a real Pacha party.
Costs: R750
Location: The Grand Café and Beach.
New Year's Eve at Nederburg
Not looking forward to ending the year on a dancefloor with a DJ playing loud music? NYE at Nederburg might be a good alternative. At this lovely wine farm, you will be enjoying music from the Cape Town Philharmonic Orchestra. At this event where you may bring your own picnic goodies you can taste wines from the farm and end your busy year in a relaxing way.
Costs: R300
Location: Nederburg Wine farm, just under an hour out of Cape Town.
The Cape Town Comedy Club New Year's Eve Party
At the Cape Town Comedy Club, you can end the year with a smile on your face. During this year's NYE party 5 comedians will perform before DJ Godfrey takes over to change a laughing crowd into a dancing crowd. The doors open at 6pm and the party starts at 9pm. The ticket includes the comedian performances, a champagne cocktail at arrival, the after party with DJ Godfrey and the 2017 countdown.
Costs: R350
Location: The Pumphouse at The V&A Waterfront.
There is a New Year's eve party for everybody in Cape Town and its surroundings. No matter what you are looking for, you will find it here. Even if a party isn't what you are looking for there are also enough dining options and gatherings in parks. If you are looking for more fun and adventure during your Cape Town stay. Book a adventurous trip on our website.