Ashanti's guide for those who only have one week in Cape Town and want to see and do as much as possible!
Cape Town is a vibrant, exciting city with plenty to offer in terms of adventure tourism and day tours. In fact, there is so much to see and do that it is often difficult to decide where to start. We have compiled a list that we think should be part of every Cape Town itinerary, including the top budget tours, activities, restaurants, and nightlife on offer.
Monday
For your first day in Cape Town, it's highly recommended that you try the Hop on Hop off bus. It is a great way to get your bearings of the area and includes all the major hotspots on your bucket list. You can experience the city centre, visit some beautiful beaches, shop at the Waterfront, and even hike up Table Mountain. You really can cram a lot into your first day and get a great overall experience of the city. The last stop on the bus route is the V&A Waterfront. With plenty on offer, you could spend the evening browsing through markets, checking out the local seal population or eating a delicious meal at one of the many restaurants along the water's edge.
Tuesday
Your first day has been spent getting to know the city, why not spend your second exploring the Peninsula and the Cape of Good Hope? A peninsula tour is the perfect way to experience this beautiful landscape and all it has to offer. This tour will start from the city, and follow the coastal roads of the Cape Peninsula. You will pass over Chapmans Peak, a mountain pass well known for its beauty and amazing vistas. Depending on which Cape Peninsula tour you choose, you could spend some time cycling around the Cape Point Nature Reserve or stop off for some Wine Tasting at Groot Constantia on your way back home. Ashanti Lodge Gardens has the Kumasi Café and Bar, where delicious meals are served in a fun, lively environment. Why not try one of our tasty pizzas or a mouth-watering springbok burger and join us in our legendary Killer Pool competition. Nights like this are a great way to meet fellow travellers.
Wednesday
South Africa is a wonderful mix of multiculturalism. One of the best ways to experience this is to leave the city and do a township tour, where you will learn about the controversial history of South Africa and see a completely different side of Cape Town. Walking through these informal settlements and meeting the friendly locals is a great educational experience. One of the highlights of the tour is a visit to a local children's school. If you like you can add a ferry visit out to Robben Island, the infamous prison where Nelson Mandela was held for 18 years of his life.
Thursday
A perfect day to go on a wine tour. The Western Cape boasts one of the most beautiful wine regions in the world and even better wines. Go on a full day adventure into the heart of wine country accompanied by an experienced and knowledgeable guide. Discover the beauty of the land, the culinary delights of cheese tasting, chocolate tasting, and of course, wine tasting. This tour includes a delicious traditional South African braai for lunch, before heading off to conquer some more amazing wine farms. If you get home ravenous from your full day adventure, why not check out Cape Town's famous Kloof Street? A trendy stretch of road with plenty of bars and restaurants, offering delicious meals at affordable prices.
Friday
The weekend has arrived! Maybe you would like to explore the city further? Or go spend the day on one of Cape Town's beautiful beaches. A visit to Kirstenbosch Botanical Gardens is always a treat, with lots of great hiking trails starting from the gardens itself. Get some fresh air, or head down to the city centre for some shopping at local markets and trendy stores. The evening is when things start to get busy here and it's about time you made your way to Long Street. If Kloof street is the trendsetter, then Long Street is the fun younger sister. Once all the shops and markets close, the bars, restaurants, and clubs start to open. No visit to Cape Town is complete without a night spent bar/club hopping along Long Street.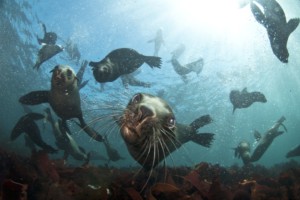 Saturday
Saturday is market day in Cape Town. The Old Biscuit Mill's NeighbourGoods Market is Cape Towns "must do market" in the city. Only open on Saturdays, from 9am to 2pm, It is advisable to get there early as it can get quite full. With fresh produce, delicious cooked food, local art, live music and beer tents, this trendy hotspot is a must see. Another great market not to forget is the Hout Bay Harbour Market. Hout bay is about 25 minutes out of Cape Town. A beautiful harbour town with a large seal colony, fresh seafood and a great weekend market. Open on Fridays from 5pm to 9pm and then Saturday and Sunday from 9:30am to 4pm. The market has similarities to the Old Biscuit Mill but gets a lot less packed and has more handmade products for sale. You also have the added benefit of being right at the ocean. While Hout Bay you could even spend some time snorkeling with seals before heading back to the city. Tonight is a good night to head over the mountain to Camps Bay. Famous for its beautiful stretch of beach accompanied by top restaurants and high-end bars and clubs. It is the place people go to see and be seen.
Sunday
South Africa can still be quite a conservative country. This is best witnessed by the fact that everything is closed on a Sunday. So today is best spent either by booking a day tour like sandboarding, abseiling, cultural tours, shark cage diving or mountain biking, to name a few examples. Otherwise, the beaches, mountains, hikes, and parks will still be open. You could even spend the day just lounging around the pool at Ashanti Lodge with fellow travellers!
With so much on offer it's hard to narrow down to just a single week's worth of activities, but we feel we've done pretty well with this list. If you like what you've seen here it might worth checking out our Best of Cape Town Package. We've handcrafted a great 5-day and 4-night package including the tours described above. Feel free to book an extra few nights so that you have time to do your own things in between. For any queries about our tours, send us a message and we will be happy to help you plan your perfect holiday.