33 Day Cape Town to Mozambique and Kruger
ENDING POINT:
JOHANNESBURG
A comprehensive Southern African overland adventure, this tour takes you through South Africa, Namibia, Botswana, Zambia, Zimbabwe and Mozambique.
Starting in Cape Town and heading North up the West Coast of South Africa, you will enter Namibia where you will realise how vastly changing the Southern African Landscapes can be. Moving out of the desert and into Botswana's waterways, you get to experience something completely new as you explore the Okavango Delta and Chobe river. Making your across Botswana and into Zambia to find the might Victoria Falls before heading South into Zimbabwe and then South Africa's Kruger National Park. It's time to relax on some tropical beaches in Mozambique now before finally heading to Johannesburg where this tour ends.
33 Day Cape Town to Mozambique and Kruger
Day 1 –

Cape Town – Western Cape, South Africa
Our overland safari begins in cosmopolitan Cape Town, overlooked by Table Mountain and bordered by the Atlantic Ocean, one of the world's most picturesque cities. Before we leave the city, we take a tour of the Cape Flats, at one of Cape Town's intriguing townships, visiting some of the local people and community projects in the area. The townships illustrate both South Africa's tumultuous history and its hope for the future which makes for a fascinating visit. From here we head north through South Africa's Western Cape and through the fruit growing regions of Citrusdal. Our campsite is located near the Olifants River overlooking the stunning Cederberg Mountains. After setting up camp there is an option to sample some of the local wines of the region, properly meet the rest of the group and enjoy our first night under the African sky.
Meals Included: Lunch included on township tour, Dinner
Optional Activity: Wine Tasting
Day 2 –

Western Cape – Gariep (Orange) River
Continuing north, the landscape gradually turns drier and rockier as we head towards the Namibian border crossing at Vioolsdrift. We set up camp tonight on the Namibian side of the Gariep (Orange) River, a stunning backdrop. Our camp provides you with the necessary comforts like hot showers, flush toilets, grassy campsites, swimming pool, bar facilities and the Orange River is safe for swimming! You will be briefed on an optional Orange River canoe safari for later this afternoon or the following morning. The camp by night is showered with stars of the Richtersveld – a truly peaceful and tranquil experience.
Meals Included: Breakfast, Lunch, Dinner
Optional Activity: Canoe Safari
Day 3 –
Gariep (Orange) River – Fish River Canyon, Namibia

This morning we have the opportunity to partake in an optional canoe safari on the river, or simply relax on the water's edge before making our way to the majestic Fish River Canyon. One of the natural wonders of Africa, the canyon is some 500m deep and over 160km long and often referred to as the second largest canyon in the world. There are plenty of opportunities for keen photographers this afternoon especially at the canyons infamous sharp river bend known as 'Hells Corner'. A great opportunity to find a quiet spot and marvel at the sheer beauty of the Fish River Canyon.

Meals Included: Breakfast, Lunch, Dinner
Optional Activity: Canoe Safari
Day 4 –
Fish River Canyon – Sesriem Area

After a night near the canyon we continue north to the Sesriem Area, the gateway to the Namib Naukluft National Park, containing the world's oldest desert and highest sand dunes. The Namib-Naukluft National Park contains part of the Namib Desert and the Naukluft mountain range. With an overall area of 49,768 km2 it's larger than Switzerland and is the second largest game park in Africa and the fourth largest in the world. Here we set up camp for the evening under the starry Namibian sky.

Meals Included: Breakfast, Lunch, Dinner
Day 5 –
Namib Naukluft National Park – Sossus On Foot Camp

This morning we enter the National Park to trek to the top of famous Dune 45. A spectacular sight but be warned, it's not an easy feat to reach the top as some dunes are over 300m high! After a well-deserved breakfast we continue deeper into the park for a short shuttle ride and nature walk to 'Dead Vlei', amidst the giant sand dunes – a real glimpse of Namibia's unspoilt natural environment. Bring your camera – the shifting colours of the desert as the sun climbs throughout the mid/late morning offer some brilliant photographic opportunities. Departing from the dunes, we stop off at the smaller Sesriem Canyon where the multiple layers of rock and pebbles make for an interesting insight to what lies beneath the mountains of sand. Thereafter we make our way via Namibia's smallest town, Solitaire to our camp for the night

Meals Included: Breakfast, Lunch, Dinner
Optional Activity: Desert Experience
Day 6 –
Sossus On Foot Camp – Swakopmund

Leaving our desert camp, we head for the Atlantic coast for the next two nights, crossing over the Tropic of Capricorn, and stopping for a photo opportunity en route. Swakopmund makes for a refreshing change with cooler Atlantic sea air, a taste of civilization and a swathe of exciting things to do and places to explore. Be daring and try some desert-based adventure activities – quad biking, sand boarding, skydiving (weather permitting) and more! For those not seeking adventure enjoy what the town has to offer: shopping, restaurants, museums, aquarium, artgalleries – or else simply walk along the promenade admiring the ocean, the quaint German-style architecture and indulge in the town's café culture.

N.B: For the sake of practicality, meals in Swakopmund are restricted to breakfasts. This allows you to take on half day or full day activities (some of which include lunch) without having to be back for meal times. Swakopmund town offers a variety of bakeries and cafes with a selection of reasonably priced meals (allow ZAR 80-150 per meal). Relax and enjoy these days at your own leisure.

Meals Included: Breakfast
Optional Activity: Sandboarding – Stand Up Sandboarding – Lay down, Quad Biking, Skydiving, Deep Sea Fishing, Scenic Flights, Swakopmund Township Tour, Dolphin and Seal Cruise, Kayaking
Day 7 – Swakopmund
Today is a free day to enjoy all this quaint seaside town has to offer – from the many optional activities to the German patisseries, cafés and restaurants.
Meals Included: Breakfast
Optional Activity: Sandboarding – Stand Up Sandboarding – Lay down, Quad Biking, Skydiving, Deep Sea Fishing, Scenic Flights, Swakopmund Township Tour, Dolphin and Seal Cruise, Kayaking
Day 8 –
Swakopmund to Spitzkoppe

Leaving the coast, we turn inland to the beautiful Damaraland region and explore Spitzkoppe where we admire ancient bushman paintings still visible on peculiar rock formations. The giant boulder-like rock formations peak at approx 1800m above sea level and form a spectacular view. Take your time to explore the area and its delightful calmness. Keep an eye on the ever-changing colour of the rock, especially during sunrise and sunset, when they acquire intense red shades. The most impressive rock painting is "Bushman Paradise" and the natural rock bridge is a favourite viewpoint. The Spitzkoppe Rest camp lies at the base of the mountain and is owned and maintained by the local community. All proceeds from our visit go directly to this community. Please note that some group members may be starting their tour on this day.

Meals Included: Breakfast, Lunch, Dinner
Day 9 –
Spitzkoppe to Etosha

From Spitzkoppe we turn north again making our way to Etosha National Park, a vast reserve of over 20,000 sq km surrounding a central salt depression or 'pan.' The pan is seasonally full of water, but specially managed waterholes sustain some 114 mammals and 340 bird species. We spend two nights here, usually making camp near a floodlit waterhole. Observers frequently see a range of night visitors including elephant, giraffe, zebra, even lion and hyena, making it one of the most memorable wildlife encounters in Namibia – a truly African experience and a highlight of any trip to Namibia. We have a short afternoon game drive on entering the park and heading to the camp.

Meals Included: Breakfast, Lunch, Dinner
Day 10 –
Etosha National Park

Today, we enjoy a full day game driving in this magnificent animal kingdom – taking in the park's main characteristic, the salt pan which can be seen from space – in search of elephant, rhino, zebra, giraffes and the numerous grazing animals frequently spotted around the water holes. Despite the dry nature of the terrain, the park sustains a wide variety of bird species including the large Kori Bustard, Secretary Bird and many other seed & insect eaters, as well as birds of prey. After a full day game driving we return to camp, or onto the next camp and enjoy our last evening around the floodlit watering holes, observing natural animal behaviour at its best.

Meals Included: Breakfast, Lunch, Dinner
Day 11 –
Etosha to Windhoek

Heading south, we arrive in Windhoek, the capital of Namibia, which is located in a basin between the Khomas Highland, Auas and Eros Mountains. Windhoek (Windycorner in English) is home to approximately two hundred thousand people, an extremely small capital by global standards. The city centre is characterized by a proliferation of German style buildings, a lasting reminder of Namibia's early colonial history and atmosphere. Take the opportunity to enjoy a night out at one of the local restaurants. Please note that some group members may be ending their tour in Windhoek. Both old and new are invited to join for the group outing.

Meals Included: Breakfast, Lunch
Day 12 –
Windhoek to Ghanzi, Botswana

Leaving Windhoek, we travel east into the Kalahari region and cross into Botswana. Our first stop is at the town of Ghanzi. Here, in this midst of (seemingly) barren terrain we meet the San Bushman and have a guided bush walk for a cultural experience and insight into these ancient people's way of life. We learn how they work with nature and manage the renewable resources found in their natural surroundings without damaging the fragile balance found in this ecosystem. Something we can all learn from. Your support of this ecotourism venture gives the San Bushman a sustainable income and helps keep their culture alive. Around the campfire at night, you can experience the ancient dance rituals of the San Bushman. On special occasions this could be a healing or trance dance, which can continue all night, and is an intense spiritual experience for both participants and visitors alike.

Meals Included: Breakfast, Lunch, Dinner
Optional Activity: Traditional Dancing
Day 13 – Ghanzi to Maun
Maun is the fifth largest town in Botswana and is an eclectic mix of modern buildings and native dwellings. Although officially still a village, Maun has developed rapidly from a rural frontier town to a community that has distributed along the wide banks of the Thamalakane River where red lechwe antelope can still be seen grazing next to local donkeys, goats and cattle. Since Maun's founding in 1915 it has had a reputation as a hard-living 'Wild West' town helping the local cattle ranching and hunting operations. Maun today is a thriving tourist town famous for its donkey population and to a lesser extent, goats. These animals can be seen standing around town as they are used by local traders and farmers alike to transport their wares to sell on the curb side.
NB: If time allows, we have the opportunity to take an optional scenic flight over the Okavango Delta, either this afternoon or on day 15 on our return from the Delta excursion
Meals Included: Breakfast, Lunch, Dinner
Optional Activity: Okavango Delta Scenic Flight per 5-seater plane – 45 min flight time, Horse Riding (2 hour)
Day 14 –
Maun – Okavango Delta

Leaving the campsite in Maun we begin our excursion into the Okavango Delta by an open 4×4 truck to the mokoro station. Here we will be introduced to the local Tswana Polers that will be guiding us on this expedition. We travel by mokoro (dugout canoe) amongst the giant lily pads, tall grasses and labyrinthine channels in search of resident wildlife and a variety of birds, to our tented camp from which we can explore the area on a walking safari. The Okavango is a natural wetland spreading over some 1,600,000ha of northern Botswana that offers a perfect habitat for the many species of wildlife that roam here freely. The Okavango River rises in Angola (farther to the north) and flows south dividing repeatedly after crossing into Botswana to form an intricate floodplain of channels and which spreads out into a broad flat inland delta – the only one of its kind in the world. We enjoy the afternoon wilderness experience and overnight listening to the sounds of the African night – an unforgettable experience!

Meals Included: Breakfast, Lunch, Dinner
Day 15 –
Okavango Delta – Maun

This morning we take an easy paced mokoro ride out of the Okavango Delta back to the polers station from where we will drive back to Maun, our overnight stop. We aim to get back to camp around lunch time to allow for the opportunity to enjoy an optional scenic flight over this spectacular UNESCO world heritage site. Alternatively, the afternoon can be spent at leisure at the camp's pool.

Meals Included: Breakfast, Lunch, Dinner
Day 16 –
Maun – Elephant Sands, Nata

Today, we make our way towards Nata travelling through a wide-open wildlife corridor between the Nxai and the Makgadikgadi Pans. We stop off to see one of Africa's most iconic trees – the Baobab along the way and arrive at the Elephant Sands Lodge during the late afternoon. The camp has no fences, so all wildlife can roam freely from one waterhole to another and one can expect to see a variety of antelope and other wildlife during your stay at Elephant Sands. It is one of the most unique and amazing experiences to watch wild elephants and their behaviour at such close proximity.

Meals Included: Breakfast, Lunch, Dinner
Optional Activity: Morning Bush Walk, Evening Game Drive
Day 17
– Elephant Sands, Nata – Kasane

We make our way to the northern corner of Botswana to Kasane, the gateway to Chobe National Park. By size, it is the third largest park in the country and is the most diverse; home to elephant, lion, buffalo, hippo and abundant birdlife, including the famous African fish eagle. We take a 'Fish Eagle' cruise on the Chobe River – a great opportunity to see hippo and perhaps elephant or buffalo coming to the river to bathe and drink. The Chobe River is a major watering spot for large breeding herds of elephants, as well as families of giraffe, sable and cape buffalo. The flood plains are the only place in Botswana where the puku antelope can be seen. Birding isalso excellent here. When in flood spoonbills, ibis, various species of stork and other waterfowl flock to the area.

Meals Included: Breakfast, Lunch, Dinner
Day 18 –
Kasane – Livingstone, Victoria Falls, Zambia

This morning we head out to explore the Chobe National Park on an open vehicle game drive where we have the opportunity to spot not only elephant that are so prolific in the park, but also lion, and different antelope species. Moving on from Kasane we take the ferry across the confluence of the Chobe and Zambezi Rivers into Zambia. Zambia, formerly known as Northern Rhodesia took its name from the Zambezi River at independence in 1964. The Zambezi River is the fourth longest in Africa (after the Nile, Congo and Niger) and the largest flowing into the Indian Ocean. Home to one of the world's largest waterfalls, we visit Victoria Falls and try to take in the immensity of one of nature's Wonders of the World. At various times of year, the spray from the Falls can be seen from up to 20 or 30 kilometres away, hence the local name 'Mosi oa Tunya' – the 'Smoke that Thunders'. We set up camp at the Waterfront campsite on the banks of the Zambezi, just a few kilometres from the Victoria Falls and the small town of Livingstone. We will give a full briefing on the various optional activities available in the area (typically these include rafting, canoeing, bungee, abseiling, gorge swinging, horse riding, scenic flights and river cruises), allowing you to plan your time accordingly.

NB For the sake of practicality, meals in the Livingstone/Victoria Falls area are restricted to breakfasts. This allows you to take on half day or full day activities (some of which include lunch) without having to be back with the group at mealtimes. The Waterfront camp restaurant overlooks the Zambezi River and offers a good selection of reasonably priced meals and snacks throughout the day (allow US$15 -$30 per meal). Relax and enjoy these few days at your own leisure. Alternatively, take a taxi into Livingstone to try local fare.

Meals Included: Breakfast
Day 19 –
Livingstone, Victoria Falls, Zambia

Today is yours at leisure to explore the Victoria Falls area to the full. Apart from the adventure activities already mentioned check out the markets, volunteer a day in some worthwhile local projects, or simply relax at the beautiful waterfront and watch the Zambezi River flow quickly past on its way to Victoria Falls. Please note that some group members may be leaving their tour in Livingstone on this day.

Meals Included: Breakfast
Optional Activity: Bungee Jumping, Full Day Abseil, Mosi Oa Tunya National Park Game Walk, Chief Mukumi Village Tour, Gorge Swing, Zambezi Jet Boat & Cable Car, Half Day Canoe, Zambezi Sunset Cruise, Full Day White-water Rafting, Helicopter/Microlight Flights, Half Day Fishing, Bridge Tour.
Day 20 –
Victoria Falls, Zimbabwe

Today we will be transferred across the border into Zimbabwe to meet the new group and tour leader. Once you settle in, today is a day at leisure. Here you have the opportunity to choose more activities or simply relax in our beautiful surroundings. Why not enjoy a guided tour of the 'Falls' for a different perspective to watch the spectacle and see the enormous Batoka Gorge of which the Zambezi plunges or enjoy the popular activities include scenic flights for a birds-eye view of the falls, bungee jumping off the Livingstone Bridge, gorge swinging, jet boating, game drives, horse safaris, cultural excursions and river cruises to name a few.

NB A transfer across the border will be arranged. Please confirm times with your current tour leader to meet your group in Zimbabwe to start your Zimbabwe and Mozambique adventure tour.

N.B: For the sake of practicality, meals in Victoria Falls area are at your own discretion. This allows you to take on activities (some of which include lunch) without having to back with the group mealtimes. The town of cafés and restaurants offer a good selection of reasonably priced meals and snacks (allow US$15-$30 per meal). Relax and enjoy at your own leisure. Please note that some group members may be starting their tour in Victoria Falls on this day.

Meals Included: Breakfast
Optional Activity: Bungee Jumping, Gorge Swing U, Helicopter Flights, White water rafting , Full day canoe, Game walk, Jet boating, Birding ½ day, Bike tour – 3 hours, Sunset Cruise
Day 21 –
Victoria Falls – Hwange National Park

Today we head for the world-famous Hwange National Park. This is Zimbabwe's largest and best-known park and was (in the early 19th century) the royal hunting grounds of the Ndebele warrior-king Mzilikazi. In 1929 it was set aside as a National Park for the benefit of all Zimbabwe's peoples. The park covers an area of over 14,600 sq km and is known for its elephant but contains over 100 mammal species including Africa's "Big 5″ (leopard, lion, elephant, rhino and buffalo), as well as giraffe, cheetah, gemsbok and the brown hyena and abundant birdspecies. Hwange is also known for its population of the Wild (Painted) Dog. Late in the day we take a locally guided open vehicle game drive and hope to glimpse some of the wildlife in the park before returning to camp for overnight.

Meals Included: Breakfast, Lunch, Dinner
Day 22 –
Hwange National Park – Bulawayo

Departing Hwange, we drive south to Bulawayo, Zimbabwe's second city. The afternoon is at leisure. Bulawayo is a pleasant city with broad tree-lined avenues and wide-open spaces. There is a fascinating National History Museum, which recounts much of Zimbabwe's traditional and colonial past, and near the Old Town Hall there is a lively curio market where you can test your bartering skills. A wide range of handicrafts and artwork are on display here most made locally by skilful craftsmen and women.

Meals Included: Breakfast, Lunch, Dinner
Day 23 –
Bulawayo – Matobo National Park – Bulawayo

We explore the Matobo National Park on our half day guided tour. The wind-sculptured Matobo Hills are the site of numerous Bushman paintings and the area holds a special cultural and spiritual importance to the indigenous people. The reserve also has a large concentration of the Black and White Rhino and providing it's safe to do so our guides will lead us on foot to search for these magnificent animals. Approaching these massive beasts is a heart racing, breath taking and memorable experience. At such times it may be comforting to remember that rhinos are herbivores. The park also has a dense population of leopard and black eagle and we hope to catch sight of either (or both) these creatures. We also keep a look out for giraffe, zebra, ostrich and a variety of antelope and buck species.

Note: There is an option to upgrade to a full day Matobo tour to include various historical sites. The price is listed in the optional excursions and can be arranged with your crew on the day.

Meals Included: Breakfast, Lunch, Dinner
Optional Activity: Upgrade to full day Tour including historical tour and village tour
Day 24 –
Bulawayo – Great Zimbabwe National Monument, Masvingo

Leaving Bulawayo, we cross towards the east of the country to the small town of Masvingo. Nearby is one of the most important archaeological sites in Southern Africa: the Great Zimbabwe National Monument. Dating back to 1200AD this place was once the home to an indigenous population of some 10,000 people. A UNESCO World Heritage Site the area holds special significance to the country which took its name. Legend says this was the city where the Queen of Sheeba resided and archaeological finds uncovered gold, coins and porcelain from as far afield as Persia and China, highlighting the importance of the city as a trading post. We camp nearby for easy access and ample time to explore the ruins at leisure and with a local guide who will give you basic information of the area. If you have the energy there is the opportunity to trek to the top of the Hill Enclosure to enjoy a wondrous African sunset.

Meals Included: Breakfast, Lunch, Dinner
Day 25 –
Masvingo – Bandula Area, Mozambique

Today, we leave early and stop off in Mutare and if time allows stop at the spectacular Birchenough Bridge (named after Sir Henry Birchenough). The bridge spans the Save River on its 400 km journey through Zimbabwe and Mozambique and is one of many scenic features of eastern Zimbabwe. Once we have stocked up on supplies we make our way to the border point to leave Zimbabwe and enter Mozambique.

NB Border formalities entering Mozambique can be time consuming and we may be held here for several hours while the paperwork is completed. Your patience at such times is greatly appreciated. We find the best way to proceed is to let officials work at their own pace and wait patiently. Your tour leader will do most of the work but he (she) will be grateful for your understanding if things seem to be taking longer than they should. Once formalities are complete we make our way the Bandula area near the Chicamba Dam where our campsite is located within a 550-hectare conservancy. Most people notice immediate differences upon entering Mozambique Travelling is generally slower and road conditions more demanding. Campsites are not as well appointed. Towns and shops may have fewer goods or less variety. While this can sometimes be frustrating many people after a few days find this one of the more appealing and attractive aspects of their over-land tour. Overlanding is an adventurous type of travel and these are not 'conventional' holidays. We are sure you will enjoy Mozambique but do try to warn you not to expect things to be the same as elsewhere in Africa.

Meals Included: Breakfast, Lunch, Dinner
Day 26 –
Bandula – Vilanculos area

This morning, we leave early and make our way to the spectacular Indian Ocean coast. We arrive at Vilankulo (or Vilanculos), the Gateway to the Bazaruto Archipelago. Named after a local tribal chief Gamala Vilankulo Mukoke, the town itself is only 5km long yet is a hive of activity, has a lively atmosphere and friendly people. On arrival, we gather our luggage and snorkels for the following day's island trip and board our traditional dhow boat to our 'rustic 'bush camp. The beach camp is located on a remote stretch of the coast approximately 90 minutes sail from Vilanculos town itself. We arrive in the late afternoon and settle in to our beach camp for the next 2 nights

Meals Included: Breakfast, Lunch, Dinner
Day 27 –
Vilanculos area

After breakfast we take our dhow boat to Magaruque Island, the third Island in the archipelago and the closest to Vilanculos. Here you can enjoy the island at leisure, snorkelling, swimming, walking or simply enjoy lazing on the pristine beach. A delicious seafood lunch is included in our Dhow Safari. With its powdery-white beaches, turquoise waters, and superb all-year round climate, Magaruque is perfect to relax, unwind and explore the local marine life. We return to our beach camp in the late afternoon to overnight.

Meals Included: Breakfast, Lunch, Dinner
Day 28 –
Vilanculos area – Inhambane

We bid our seaside camp farewell and head further down the scenic coast via Inhambane to Tofo where we will spend the next 2 nights. Tofo is a small beach town with lovely open beaches, where the pace of life slows allowing you to relax and soak up the atmosphere. There are many activities on offer such as horse riding, snorkelling and scuba. Whale Sharks and Manta Rays inhabit the coastline all year round but are in larger numbers in the summer months (November to March). Humpback whales usually arrive around mid-June and are present until mid-October. The natural vegetation of the coastal plain is dune forest, but this has largely been replaced by coconut palms, planted by the Portuguese and local Bitonga people to supply the thriving copra trade. There are some exciting bars and restaurants in the area – sample the local seafood, the area is famous for it – and the local beer (called '2M') or else simply relax and enjoy a good read. You could also take a trip into Inhambane, the second oldest town in Mozambique to explore the local market.

Meals Included: Breakfast, Lunch, Dinner
Day 29 –
Inhambane

Today is a free day at leisure to enjoy the local tropical beaches and the many activities on offer. Nearby Inhambane has a rich history and offers a great opportunity to go out and explore the old city. Climb the ladder at the Cathedral of our lady of Conception Inhambane for fantastic 360-degree views of the surrounds. The local markets are also a highlight with fresh fish, seafood and farm produce on sale. You'll soon see the mix of Arabic and African cultures that create a vibrant, eclectic style of its own. If the delights of the ocean are your forte, then head out and explore the reefs and colourful marine life found in this warm watery haven.

Meals Included: Breakfast, Lunch
Optional Activity: Scuba Diving, Snorkelling Trips, Quad Biking
Day 30 –
Inhambane – Praia do Bilene

We leave Tofo and head south to Bilene and our last coastal stop in Mozambique. Bilene, also known as Praia do Bilene and was once called San Marthino is located 180km from Mozambique and famous for the Uembje Lagoon (or San Marthino lake) where you can try out one of the best loved activities in Bilene – snorkelling! Our camp for the evening is located on top of the dunes overlooking the stunning lagoon itself. It's here we spend the night lulled by the sound of the ocean and enjoy the fresh breeze as we unwind from our day.

Meals Included: Breakfast, Lunch, Dinner
Day 31 –
Praia do Bilene – Hazyview – Kruger National Park, South Africa

From Bilene we cross the border into South Africa, where we head for southern Africa's premier game reserve, 'Kruger' and spend the night outside the reserve. Fences between the National Park and surrounding private reserves were removed several years ago to form the Greater Kruger, an area of some 24000 sq km. Wildlife is free to roam the whole enormous area and it has become incredibly diverse in both fauna and flora. From the dwarf mongoose to the 'Big Five', almost every major African mammal (148 species) is present. There is also prolific birdlife (over 505 species) and over 330 varieties of trees. This evening we immerse ourselves in the local culture and enjoy Shangaan tribal dancing and singing around an open fire to learn more about these fascinating people.

Meals Included: Breakfast, Lunch, Dinner
Day 32 –
Hazyview – Kruger National Park

Waking early, we board our 4×4 game viewing vehicles with a resident guide for an intense but rewarding day in Kruger National Park. The impressive atmosphere of the park enables you to see why it is held in such high esteem amongst visitors from all over the world. We game drive in the morning and afternoon in search for the abundance of wildlife including the 'Big 5' – Rhino, elephant, buffalo, leopard and lion together with a high density of other mammals and diverse bird species such as eagles, hornbills, vultures and bee eaters. We break during the middle of the day to enjoy the peace of the rest camp and wait out the hottest part of the day (when wildlife is usually less active). We then continue our game drive through the park exiting in the late afternoon and continue to our accommodation for the night.

Meals Included: Breakfast, Lunch, Dinner
Optional Activity: Night game drive
Day 33 –
Hazyview – Greater Kruger – Pretoria

We leave the Kruger behind and make our way to South Africa's administrative city, Pretoria, where our tour ends late afternoon / early evening on day 14 (we recommend that you plan to say that evening in Pretoria)

Meals Included: Breakfast
Adventure Pass
Every Overland tour has an Adventure Pass which is paid to your tour leader in Africa at the beginning of the tour (or pre-paid by arrangement prior to your tour). This is separate and in addition to the Tour Price, and covers selected park entries, activities and excursions along the way where payment goes directly to the supplier to ensure local suppliers benefit directly from the income.
This pass is an optional add-on for this tour.
The Adventure Pass for this tour includes
Hwange National Park, Zimbabwe
Great Zimbabwe National Monument, Zimbabwe
Matobo National Park, Zimbabwe
Chobe National Park Game Drive, Botswana
Chobe Fish Eagle Cruise, Botswana
Okavango Delta, Botswana
Sossusvlei, Namibia
Township Tour Cape Town, South Africa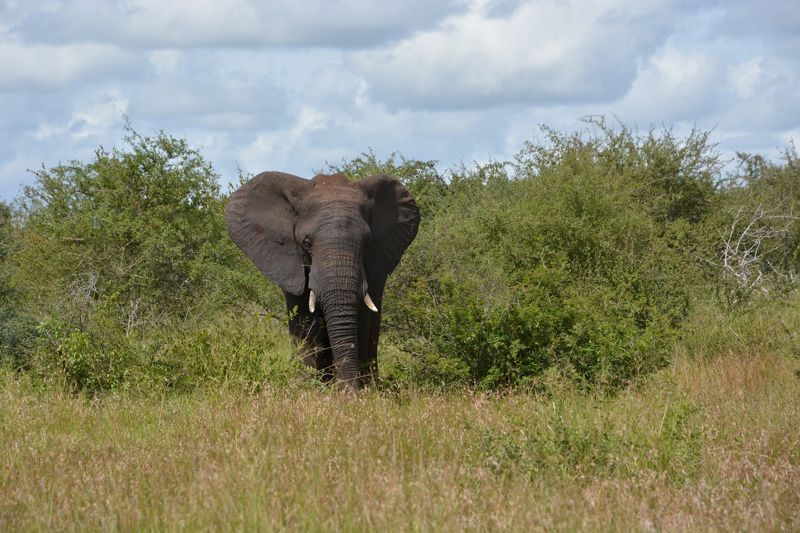 Camping – R57420 excl Adventure Pass
Optional Adventure Pass – R8820
Includes:
Meals & highlights as per itinerary, accommodation, guides and transport
Excludes:
All items of a personal nature, entrance fees, alcohol, soft drinks, bottled water, snacks, souvenirs, tips, adventure pass and optional activities
Please note that maps shown are a rough guide. Exact locations and routes might differ slightly to what is shown. Please refer to the tour itinerary for a more precise route.