7 day Garden Route and Wine Tour
TOUR TYPE:
ADVENTURE TOUR
Enjoy the best parts of the Garden Route in combination with a wine tasting in the beautiful Winelands.
This tour departs every Monday and Saturday from Cape Town. From here you will travel to Wilderness National Park where you will canoe on a stunning lagoon. The second day you will move to Jeffreys Bay via Tsistikamma National Park where you can do a bungee jump from the Bloukrans Bridge or just enjoy your time in the park. The third day is safari day in Addo Elephant Park! The next day we travel to Oudtshoorn and visit an ostrich farm and the Cango Caves. Day number six is wine tasting day in Stellenbosch and at the end of the day you'll travel to the most southern part of Africa: Cape Agulhas. On the seventh day we travel back to Cape Town.
7 day Garden Route and Wine Tour
Day 1
Cape Town – Sedgefield

Early morning pickup from your accommodation in Cape Town CBD or Stellenbosch. Travel to Wilderness National Park. 18km of beaches cooled by sea spray, five lakes, five rivers and two estuaries, Wilderness is one of nature's jewels in the crown and a protected National Park. Canoe on the Wilderness lagoon and watch the bird life while gliding over the water in a pure encounter with nature. Myoli Beach is an undiscovered beach paradise, perfect for swim or surf in the warmer Indian ocean. Overnight at Sedgefield area.
Meals Included: N/A
Included Highlights: Wilderness National Park
Day 2
Sedgefield – Jeffreys bay

In Knysna, nestled between forested mountains, sea and curving around a big lagoon, we visit THE HEADS- where the sea crashes through these two massive sandstone cliffs. The eight slides, of which the longest is 211m, zigzag along cables across the river gorge, as high as 50m above the water in some places. (Optional with extra cost). If you don't want to do the zipline experience, then you can go for a walk in the forest.
Spend time in Tsitsikamma National Park (paradise) as we explore the marine reserve with its unique combination of dramatic coastal and forest landscape. Face your fear and jump from the world's highest bungy jump (Bloukrans Bungy Jump) or watch the adrenaline junkies as they scream through the air. (Optional with extra cost). Overnight in Jeffreys Bay area.
Meals Included: N/A
Included Highlights: Tsitsikamma National Park

Optional Activity: Waterfall Zipline, Bloukrans Bungy Jump
Day 3
Jeffreys Bay – Addo

+/-2 hour game drive (in tour bus) in Addo National Park, the third largest national park in South Africa, a world of diversity; varied landscapes, fauna and flora. The lush vegetation provides protection and a rich food source supporting the most dense population of wild elephants on the planet. Today this finely tuned ecosystem is sanctuary to over 500 elephants and also lions, buffalo, black rhino, spotted hyena, a variety of antelope and zebra and other species.
If you want to do an extra game drive, you can choose an extra 2 hour GAME DRIVE in 4×4 vehicle with game ranger in Addo Elephant National Park. (Optional with extra cost).
After the safari's there is beach and shopping time in Jeffreys Bay. Go for a quick surf or just chill out at the beach. The backpackers hire out surf boards and wetsuits at extra cost, or shop at surfwear factory shops for excellent deals on well known labels. Overnight in Jeffreys Bay area.
Meals Included: N/A
Included Highlights: +/- 2hour game drive Addo National Park

Optional Activity: extra 2 hour GAME DRIVE in 4×4 vehicle
Day 4
Jeffreys Bay – Oudtshoorn

Tour a working ostrich farm. Learn about the flightless, tallest and heaviest bird in the world. After the ostrich farm we bring a visit to the Cango Caves. These caves are an illuminated wonderland of subterranean magic and mystery, with passageways and chambers meandering far below. The tour will explore the narrow passages and vast halls filled with colorful ancient stalactites.
Overnight in Oudtshoorn.
Meals Included: N/A
Included Highlights: Ostrich Farm Tour, Cange Caves tour
Day 5
Oudtshoorn – Stellenbosch
(Optional with extra cost) Elephant bush walk experience. Fall in love with these orphaned, gentle and lovable giants. Learn about their background and behaviour as you touch, walk with and feed them. ( ±45 minute ). After this we head back to Stellenbosch, taking route 62. Along South Africa's famous country road you'll capture the beauty of high mountains, twisting passes, rugged Karoo plains, vineyards and orchards.
Relax at your accommodation or enjoy campus nightlife at pubs, clubs in this student town. (at your own leisure & unguided). Overnight in Stellenbosch.
Meals Included: N/A
Included Highlights: Route 62

Optional Activity: Elephant Bush Walk Experience
Day 6
Stellenbosch – Cape Agulhas

Experience a vibrant township.
Visit to some of the popular wine estates that are scattered around the Western Cape towns of Stellenbosch and Franschhoek. Sample some of the country's most acclaimed wines, pairing them with locally produced cheeses and even chocolate! Travel to the most southern tip of Africa.
Overnight in Cape Agulhas
Meals Included: N/A
Included Highlights: Township tour, wine, cheese and chocolate tasting

Day 7
Cape Agulhas – Cape Town
Choose how you want to spend your morning: Just explore Hermanus, or choose to go shark cage diving in Gansbaai with a stop over in Hermanus afterwards.
(Optional with extra cost) The brave at heart rise early to go cage diving with the Great White sharks.
Enjoy the morning in the laid-back coastal town of Hermanus. Have a 'whale' of a time at this spectacular land-based whale watching spot. (Whale season Jun-Nov) Get close to a colony of over 5000 African penguins in their natural habitat at Betty's Bay Penguin Reserve.
Head back to Cape Town taking the scenic route along the False Bay coastline. Late evening drop-off at your initial address in Cape Town, Stellenbosch, Somerset West or Strand areas
Meals Included: N/A
Included Highlights: Betty's Bay Penguin Reserve

Optional Activity: Shark Cage Diving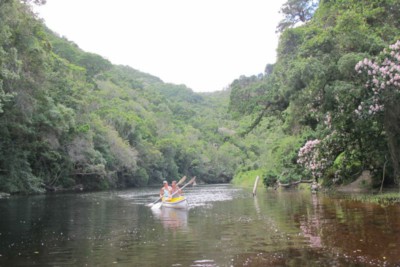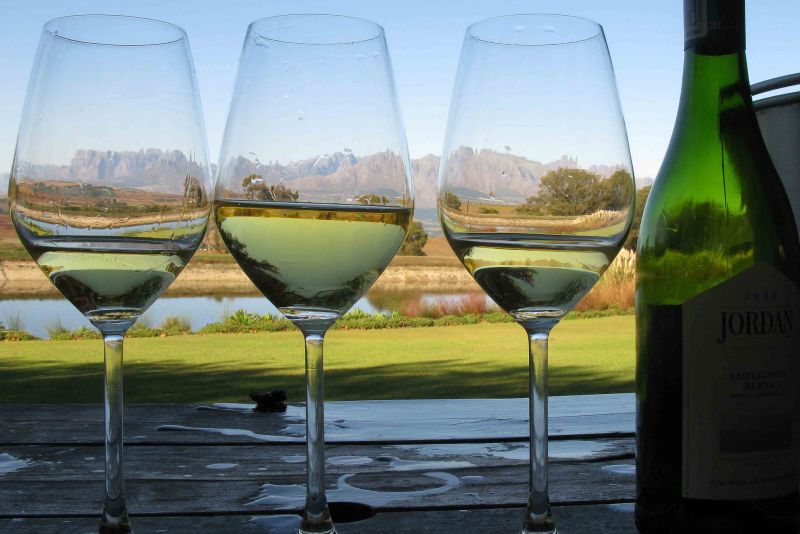 Dorm Accommodation - R9800
Backpacker Double - R11700 pp
Backpacker Single - R13900

Comfort Guesthouse Double - R16100 pp
Comfort Guesthouse Single - R18300

Deluxe Guesthouse Double - R19500 pp
Deluxe Guesthouse Single - R24300
Includes:
Transport, Bed & bedding for 6 nights, Transfers to tour highlights, Guided Township culture tour, Wine tasting and cheese pairing, Wine tasting and chocolate pairing, Penguin Reserve entry fee, Wilderness National Park entry fee, Wilderness Canoe hire fee, Tsitsikamma National Park entry fee, Addo National Park entry fee, Addo Game Drive in tour bus ±2 hours, Cango Caves tour, Ostrich Farm tour
Excludes:
Meals, Drinks, Optional Activities (See Itinerary)
Please note that maps shown are a rough guide. Exact locations and routes might differ slightly to what is shown. Please refer to the tour itinerary for a more precise route.