7 day Garden Route and Wine Tour
TOUR TYPE:
ADVENTURE TOUR
Enjoy the best parts of the Garden Route in combination with a wine tasting in the beautiful Winelands.
This tour departs every Monday and Saturday from Cape Town. From here you will travel to Wilderness National Park where you will canoe on a stunning lagoon. The second day you will move to Jeffreys Bay via Tsistikamma National Park where you can do a bungee jump from the Bloukrans Bridge or just enjoy your time in the park. The third day is safari day in Addo Elephant Park! The next day we travel to Oudtshoorn and visit an ostrich farm and the Cango Caves. Day number six is wine tasting day in Stellenbosch and at the end of the day you'll travel to the most southern part of Africa: Cape Agulhas. On the seventh day we travel back to Cape Town.
7 day Garden Route and Wine Tour
Day 1
Cape Town – Sedgefield

Early morning pick up from your accommodation in Cape Town CBD or Stellenbosch
This morning, you'll wind your way through mountain passes where lazy baboons line the roadside; through fertile micro-climates with rows and rows of grapevines and rolling farmlands. A morning stop at Riviersonderend allows those with change in their pockets to indulge in the South African penchant for home-baked pastry like the creamy and delicious milk tart (Melktert) that the country claims from its Dutch origins.
The abundance of aloe lining the roadside heralds your arrival in Albertinia and provides plenty of Instagram opportunities with bigger-than-big succulents. By stark contrast the oasis-like towns of Wilderness and George are surrounded by lush national parks and an afternoon canoe paddle provides the perfect setting to bird watch and enjoy the clean wild air.
For those that savour a great night's sleep, tonight's end destination – the coastal town of Sedgefield or Knysna – promises just that.
Meals Included: N/A
Included Highlights: Wilderness Canoeing
Day 2
Sedgefield – Jeffreys bay

In Knysna, nestled between forested mountains, sea and curving around a big lagoon, we visit THE HEADS- where the sea crashes through these two massive sandstone cliffs. The eight slides, of which the longest is 211m, zigzag along cables across the river gorge, as high as 50m above the water in some places. (Optional with extra cost). If you don't want to do the zipline experience, then you can go for a walk in the forest.
Spend time in Tsitsikamma National Park (paradise) as we explore the marine reserve with its unique combination of dramatic coastal and forest landscape. Face your fear and jump from the world's highest bungy jump (Bloukrans Bungy Jump) or watch the adrenaline junkies as they scream through the air. (Optional with extra cost). Overnight in Jeffreys Bay area.
Meals Included: N/A
Included Highlights:
Knysna Heads Walk

Tsitsikamma National Park Walk


Optional Activity:
Bloukrans Bungy Jump

Waterfall Zipline
Day 3
Jeffreys Bay – Addo – Jeffreys Bay

A pre-dawn wake-up call might seem hard to take at first, but trust me, it's worth getting an early start for your Addo game drive to see even more wildlife as the bush awakes. Your guide will use local knowledge to pinpoint the whereabouts of the park's big game animals while deftly navigating the maze of dusty dirt roads in search of most of the Big Five.
The early morning start means free time in the afternoon and J'Bay's surf village – with its discount outlets – is perfect for shopaholics. But, if you've always fancied learning to surf, then this town or the sand slopes beyond it are the places to put your goofy foot forward and go for it.
Meals Included: N/A
Included Highlights:
Game Drive in Addo National Park
Optional Activity:
Surfing

Shopping

Sandboarding
Day 4
Jeffreys Bay – Oudtshoorn

South Africa delivers on its contrasts with landscape and lifestyle as you leave the Indian Ocean shoreline behind and wind your way through the Langkloof Mountains to the arid lands of the Klein Karoo. Here, the ostrich reigns supreme. Bird-filled paddocks line the highway with colourful feather stalls and show farms around every corner as you head into Oudtshoorn. The palatial sandstone homesteads stand tall, harking back to an era when ostrich feathers were worth more than gold. A visit to the Cango Ostrich Show Farm gives you a glimpse into the farming industry, allowing you to observe the world's biggest bird beak-to-beak.
Now it's time to delve deep underground into the magical Cango Caves' limestone chambers, alive with drip formation stalactites and stalagmites and remnants of Khoikhoi paintings. Opt for the easy-going Heritage Tour to test the cave's acoustics and gain insights into the formation and dripstone evolution. Or, by contrast, the Adventure Tour allows would-be contortionists to squeeze, twist and wiggle their way through limestone chimneys on a rather more adventurous underground route.
Subject to availability, return to the wild for an optional 4×4 game drive with a knowledgeable game ranger at Buffelsdrift Private Game Reserve for a possible sighting of resident giraffe, buck and more. This "bush safari" is more focused on being at one with nature and exploring the natural setting as the reserve only bost a limited amount of game.
Oudtshoorn hospitality is second-to-none, and the serving sizes are generous. Ostrich steak or kebabs complete the experience for those with an adventurous appetite. If you have the chance to try the Karoo lamb or local ostrich, don't be shy – they are delicious.
Meals Included: N/A
Included Highlights:
Ostrich Farm Tour
Cange Caves Tour
Optional Activity:
Day 5
Oudtshoorn to Cape Town/Stellenbosch
As dawn breaks in Oudtshoorn, South Africa's sunniest town, join an optional stroll with rescued elephants – you are in Africa after all – along the dam wall at the Buffelsdrift Private Game Reserve. Gentle giants; Jabari, Malaika and Bulelo made this their home after their parents were poached in the north of South Africa. This experience will have you following in their massive footsteps, making memories you'll never forget.
After your morning adventure, it's time to head back to Cape Town along the famous Route 62, modelled after America's Route 66, but with a distinctly local flavour. Route 62 is more than just burgers and beers, farm stalls or small country towns, the highway is also the longest wine route in the Western Cape. Oenophiles will be in their element with a wine pit stop to sample Port-style wines en route to Stellenbosch. Reach Cape Town by late evening.
Meals Included: N/A
Included Highlights:
Optional Activity:
Day 6
Cape Winelands

Join the Taste & Tram along the Cape Winelands small group day tour (or similar).
After breakfast, your guide will collect you from your accommodation. Wine- and nature lovers alike are in for a treat on this tasting exploration of the Cape Winelands' best. Not only do you visit three esteemed wine farms for fine wine tastings and phenomenal pairings with cheese and chocolate in the Paarl, Stellenbosch, and Franschhoek regions; the extraordinary scenery along the way will also transport you back to yesteryear to reminisce among white gabled buildings and impressive manor houses flanked by the soaring mountain ranges.
Firstly you'll visit the cheese haven of Fairview for a farmer's tasting of their wine with local produce. Venture onwards to Franschhoek for a unique way to explore the region's wine valley by rail on a scenic one-way Franschhoek Wine Tram journey to taste fine wines at Rickety Bridge wine estate.
For lunch, you can experience the self-proclaimed culinary capital of South Africa, Franschhoek and end your meander along the Winelands with sweet port-style wines and chocolate pairing at the heritage-rich Muratie wine farm before heading back to the Cape Town region late afternoon.
Meals Included: N/A
Included Highlights:
Muratie Cheese & Wine Pairing

Short Wine Tram ride to Rickety Bridge

Rickety Bridge wine tasting

Franschhoek visit

Muratie Port style wine & chocolate pairing
Day 7
Cape Point
Join the Cape Point + Penguins small group day tour (or similar)
Start with a pick-up from your Cape Town accommodation. Hout Bay, an unassuming fishing village on the northern side of Chapman's Peak, is the first stop of the day and offers the chance to visit the seal colony of Duiker Island, just a short cruise from shore. For those without their sea legs, rather explore the local harbour market and snap Instagram-worthy pics of colourful fishing boats.
As you leave Hout Bay behind, you'll take on a staggering 114 mind-blowingly beautiful bends – stretching over nine jaw-dropping kilometres. Chapman's Peak road, or Chappies to the locals, is touted as one of the world's most scenic drives – and with good reason. Rugged mountains face off with the Atlantic and the roadway, an incredible feat of engineering, cuts a swathe right through and provides unparalleled views of the Atlantic below.
Chappies sets the scene for the afternoon's adventuring as you venture onwards to the Cape of Good Hope, the most southwesterly point of Africa. Here, water and wilderness literally collide and create a picturesque jagged shoreline adorned with greenish fringes of fynbos. This is a place to pay tribute to ancient seafarers of old like Bartolomeu Dias (who discovered the Cape of Good Hope back in 1488) and pioneers, like Vasco da Gama, who journeyed through these treacherous waters from Portugal to India.
Indigenous fauna lines narrow winding pathways en route to the Cape's whitewashed lighthouse, with views well worth the climb. Local wildlife – ostriches, baboons, and various antelope species, including bontebok – keep the journey interesting and add plenty of postcard moments for the shutterbugs. On the hillside, an optional funicular eases the journey for those that want to reach the top of the lighthouse.
As the day lengthens, travel to Simon's Town, perched on the shores of False Bay and the home of the South African Navy. Just a few minutes to the south lies Boulders Beach, a comely stretch of sand littered with granite. This hotspot is home to a large colony of African penguins who strut their stuff in their black and white feathered finery to the delight of the crowds that gather to watch. Boardwalks separate man from bird and provide the perfect vantage point to see these cute creatures.
The journey back to Cape Town sees you travel through the coastal towns of Fish Hoek and Kalk Bay with a stop at Muizenberg Beach. The Victorian-style bathing chalets on the sand – with their bright pops of colour – are sure to capture your attention as you cheer on the wave riders at Surfer's Corner. You'll reach Cape Town by late afternoon.
Meals Included: N/A
Included Highlights:
Hout Bay

Boulders Beach

Cape Point Nature Reserve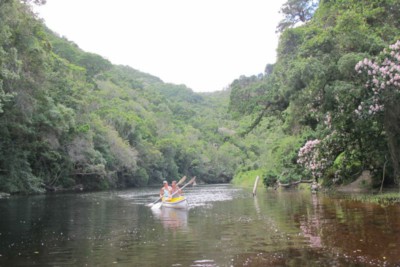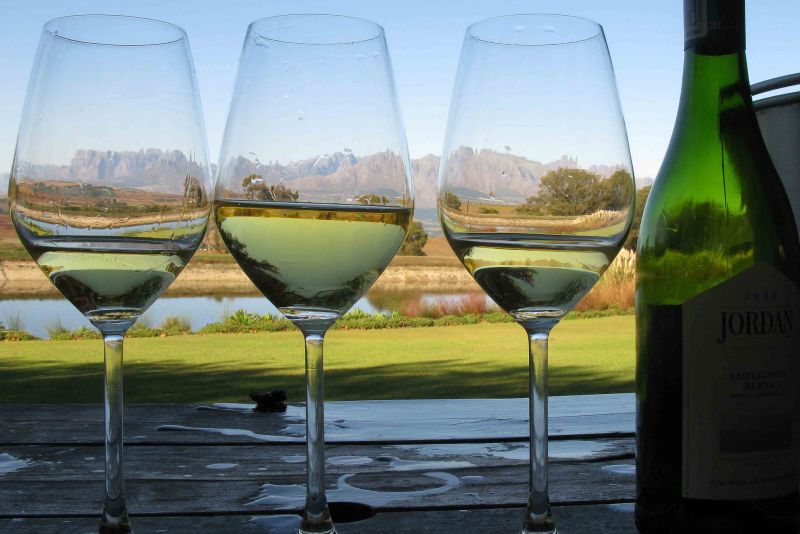 Dorm Accommodation - R15750
Backpacker Double - R17100 pp
Backpacker Single - R20100

Comfort Guesthouse Double - R18800 pp
Comfort Guesthouse Single - R21350

Deluxe Guesthouse Double - R23550 pp
Deluxe Guesthouse Single - R29550
Includes:
Pick-up & Drop-off service in ±10km radius from Cape Town CBD
On tour transport
6 nights accommodation
6 Breakfasts
Route 62 Wine Tasting
Route 62 Road Trip
Ostrich Farm Visit
Cango Caves Tour
Wilderness Canoeing
Knysna Heads Walk
Tsitsikamma National Park Walk
Addo Game Drive in Tour Vehicle
Chill Out at J'Bay
Fairview Cheese & Wine Farm Pairing
Tram Ride to Rickety Bridge Wine Tasting
Explore Franschhoek on foot
Muratie Port Wine & Chocolate Pairing
Browse Hout Bay Harbour curve along Chapman's Peak Drive
Cape of Good Hope Hike & Explore
See African Penguins along Willis Walk
Muizenberg Coastal Joyride
Excludes:
Meals, Drinks
Bungy Jumping
Waterfall Ziplining
Elephant Bush Walk
Bungy Jump
Buffelsdrift 4X4 Bush Safari
Duiker Island Cruise
Boulders Beach Penguin Reserve
Please note that maps shown are a rough guide. Exact locations and routes might differ slightly to what is shown. Please refer to the tour itinerary for a more precise route.