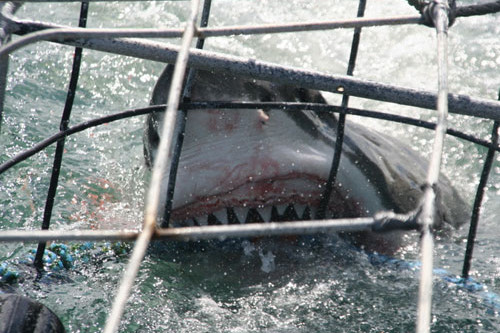 Just two hours out of Cape town, you will be taken to the little harbour town of Gansbaai. Here you will meet the team and head out on the boat through Shark Alley and search for the Great White Predators of the ocean. After preparing to get in the cage you will submerge yourself in the water and wait for an inquisitive shark to come up close. Seeing these magnificent beasts up close and personal will give you a new found respect for them. Afterward you will warm off with some soup and be returned safely back to your accommodation.
Click Here To Book This Tour Online Right Now !
Shark Cage Diving
Here is a brief breakdown of what to expect:
• Before the trip guests meet at our offices in Kleinbaai
• You will receive breakfast or lunch and register your wetsuit size
• Guests receive a pre-trip safety briefing about what to expect during the trip and a biological background on great white sharks
• We then take a 200m stroll down to the harbour to board our boat
• Travel time to Dyer Island is approximately 20 minutes, with the shallows being a short 10 minute ride
• On average, we anchor for 2 hours, but this depends on shark activity, conditions, as well as number of divers
• Weather permitting, we take a quick trip through the infamous Shark Alley
• Lastly, a debrief back at our offices with soup and bread to warm you up.
Shark Cage Diving:
Adult - R2430.00
Including Transport – R3030.00
Includes:
Shark Cage Diving, 2 meals and snacks, Dive Gear,
Excludes:
Transport to Gansbaai
Please note that maps shown are a rough guide. Exact locations and routes might differ slightly to what is shown. Please refer to the tour itinerary for a more precise route.