Volunteer at a Lion Sanctuary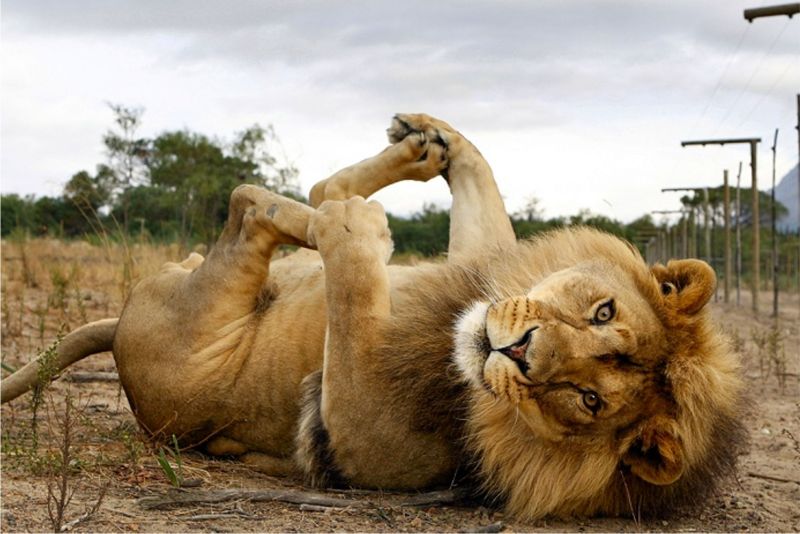 An amazing volunteering project that brings you really close to the king of the African plains: the lion! Approximately 35 lions are living in an internationally acclaimed sanctuary. In 1998 Drakenstein Lion Park, located near Paarl about a 40 minute drive from Cape Town, was established to provide lions in need of a safe place where they could stay for the rest of their lives. All these lions are captive born which means that they can unfortunately never be rehabilitated into the wild.
As a volunteer, you will join the devoted team at the sanctuary and help with the food preparations, cleaning the living areas of the animals and many other daily tasks. You will be free over the weekends so will have enough time to relax.
You will need to be aged 18 years or older to join this project. A willingness to help and good social skills are an advantage.
Volunteer at a Lion Sanctuary
Day to Day Routine:
This project is a minimum of 1 week.
You can expect to be busy from 08:30 to 17:00 from Monday to Friday, with a 1-hour lunch break at around noon. You will have the weekends off to relax.
General volunteer activities will include but not be limited to the following:
Monitoring visitors to the sanctuary to ensure our animals well-being
Food preparation for the lions, tigers, chimpanzees and the smaller animals
Cleaning the grounds and facilities
Cleaning lion and tiger camps
Clearing alien vegetation
Assisting with tour groups
Clearing fence lines and general fence maintenance
Fence construction
Firebreak maintenance (and fire fighting in the summer!).
A local taxi service is available for trips out in your spare time. There is a 9pm curfew at the volunteer camp, so you will need to be back by then if you do pop out for a meal, drinks or shopping.
Accommodation:
When you first arrive in Cape Town, you will spend the weekend at Ashanti Lodge, one of Cape Town's best backpackers. During your time with the Lion Sanctuary Project you will stay in basic shared accommodation not far from the sanctuary's lion and chimpanzee and lion enclosures. The rooms are equipped with single beds, a small wardrobe and a small drawer unit.
Here are some useful things to know about the volunteer camp:
Your rooms are very close to the lions and chimpanzees so you will hear the occasional roar at night.
Each bed has a pillow, pillow cases and sheets. You will need to bring your own sleeping bag, and blankets are available for the colder winter nights.
A housekeeper will clean the kitchen and lounge area once a week, but you will be expected to keep your own areas tidy and clean up your dishes from day to day.
There is no Wi-Fi at the sanctuary, but a shopping trip to a large mall is provided every Monday to enable you to stock up on food, spend time at an internet cafe, and drop off any laundry.
There is no safe at the camp, but there is one in the main office if you want to store any valuables.
Budgeting: Depending on your appetite and lifestyle, we suggest that you allow about £60 / U$100 per week for food, entertainment and other personal daily needs. If you like to eat out a lot or enjoy more than a few drinks you should allow for this too.
Making Your Way Here:
The Lion Sanctuary Project is located near Paarl, about a 40 minute drive from Cape Town in South Africa.
We have arrival dates for this project every Friday throughout the year.
You should aim to arrive in Cape Town on or before your chosen Friday arrival date
You can arrive at any time of day and one of our team will be there to welcome you when you land at Cape Town International Airport
We will then escort you to your pre-project accommodation, one of Cape Town's best backpackers close to the city centre
On Monday morning we will transfer you to Drakenstein Lion Park and introduce you to the team.
At the end of your placement, you will depart on the Saturday morning. We will transfer you to the airport, or to Cape Town if you are planning to explore for a while.
It's easy to add extra nights to your stay, so if you find a cheaper flight that arrives earlier than your Friday arrival date just let us know. You can also add extra nights after your placement for the same reason. Any extra time you have in Cape Town will not be wasted as there are so many things to do.
If you would like to stay in Cape Town city and do some tours, safaris or adventure activities, before or after your program then you can contact us at Ashanti Travel Online.
The price is dependent of how long you would like to volunteer for.
Minimum time period is 1 week.

Includes:
Pre-arrival support, Airport transfers, Welcome brief, Orientation, Accommodation, In-country support, Certificate, 2 Project T-shirts
Excludes:
International Flights, Insurance, Food

Please note that maps shown are a rough guide. Exact locations and routes might differ slightly to what is shown. Please refer to the tour itinerary for a more precise route.