Volunteer at a Homeless Feeding Programme
Join this rewarding programme that provides essential support and meals to the homeless people of Cape Town.
The programme not only supplies food to the homeless but also temporary accommodation and assists them in finding work. Your role will be to take the register, help with lunches and dinners, interviewing, as well as assisting the children with homework and games if you want to.
To join the project you need to be in good physical condition and at least 18 years old. Discretion as well as emotional maturity is important, as well as flexibility and patience. A good understanding of English is required to ensure effective communication.
Volunteer at a Homeless Feeding Programme
Day to Day Routine:
This programme is a minimum of 1 week.
Your first visit to the Homeless Feeding Programme will be on the first Monday after you arrive in Cape Town.
On your first day, one of the Via Volunteer's team will collect you from Ashanti Lodge @ 09:00 and take you to the Life Skills Centre in Salt River, which is about a 10 minute drive. On other days, you will need to book a taxi/Uber to get you there and back. This will be at your own cost.
We will introduce you to JP who will help you to settle in with a warm welcome. He will get you started soon after and provide you with a provisional schedule for the week ahead.
Meals for the homeless are provided at two locations; the Life Skills Centre (lunch) and the Homeless Shelter (dinner). Your daily routine will vary depending on whether you are helping out at one or both locations in a day.
For breakfast you should arrive at the Life Skills Centre at 10:00 on Mondays, Wednesdays and Thursdays to assist with preparation of food and setting up the hall for the homeless people's soup kitchen. On Tuesdays and Fridays, you will need to arrive at 12:00 to prepare for lunch. You may also be involved with taking the attendance register, helping to clean up, interviewing and recording profiles for some of the homeless people. At around 14:00 the children arrive and you can assist them with homework and playing games. You can also help with sorting and packing any clothing donations have been received.
For the evening meal, you will help to prepare food at the Homeless Shelter and interact with the people. There are permanent homeless people that stay at the shelter, and others that use the emergency accommodation each night. On Tuesday & Friday afternoon, you might also be asked to assist John with collecting food donations from the Woolworths store not far from Ashanti Lodge.
If you would like to book any activities or tours for your free time or weekends off, please contact Ashanti Travel Online. We can assist with day tours, safaris, adventure tours or even great treks through Africa.
Accommodation:
As one of Cape Town's best backpackers, Ashanti Lodge has excellent facilities and is perfectly positioned in central Cape Town as an ideal base for volunteers. This will be your home while you're here and is a great place to relax when you aren't out exploring everything Cape Town has to offer.
Ashanti is just a couple of minutes away from the excellent MyCiti bus route which provides cheap, safe and reliable transport to Table Mountain, the V&A Waterfront, Camps Bay, Hout Bay and much more. Close by you will also find an incredible variety of restaurants and bars, plenty of great hangouts in Long Street, a well-equipped shopping mall, supermarkets, health shops, cafes…the list goes on.
While you're at Ashanti you can enjoy all of the facilities below. Whether you're having a dip in the pool or watching Table Mountain while you have breakfast, you will find that Ashanti have thought of everything:
Dormitory accommodation with all bedding and linen provided.
Free Wi-Fi from anywhere on the premises
A fully equipped shared kitchen with fridge/freezers for storing your groceries
All bedding including linen, duvet and pillows (linen is changed every four days)
Laundry service – wash, dry & fold. Drop it off at reception and it will be ready for you about 12 hours later. Check with reception for price.
Lots of showers and toilets
A lovely pool area with sun beds and a BBQ
A restaurant bar with a pool table, and a balcony overlooking the pool with impressive views of Table Mountain. An all you can eat breakfast buffet is available (Check with reception for price), with great value meals available through to 10pm
A personal safe for every volunteer and coded access to your room
Lockable under bed storage for your suitcase/clothing (bring your own padlock for this)
CCTV Security, controlled access and a night guard
A night manager
The lodge is cleaned daily and rooms are also serviced daily.
Making Your Way Here:
The Homeless Feeding Programme is located in Cape Town about a 10 minute drive from Ashanti Lodge.
We have arrival dates for this project every Friday throughout the year.
You should aim to arrive in Cape Town on or before your chosen Friday arrival date
You can arrive at any time of day and one of our team will be there to welcome you with a big 'Via Volunteers' sign when you land at Cape Town International Airport
We will then escort you to your accommodation at Ashanti Lodge in Cape Town
You will have the rest of the weekend to begin exploring everything Cape Town has to offer
On Monday morning we will introduce you to the Homeless Feeding Program.
It's easy to add extra nights to your stay, so if you find a cheaper flight that arrives earlier than your chosen Friday arrival date just let us know.
You can also add extra nights after your placement for the same reason.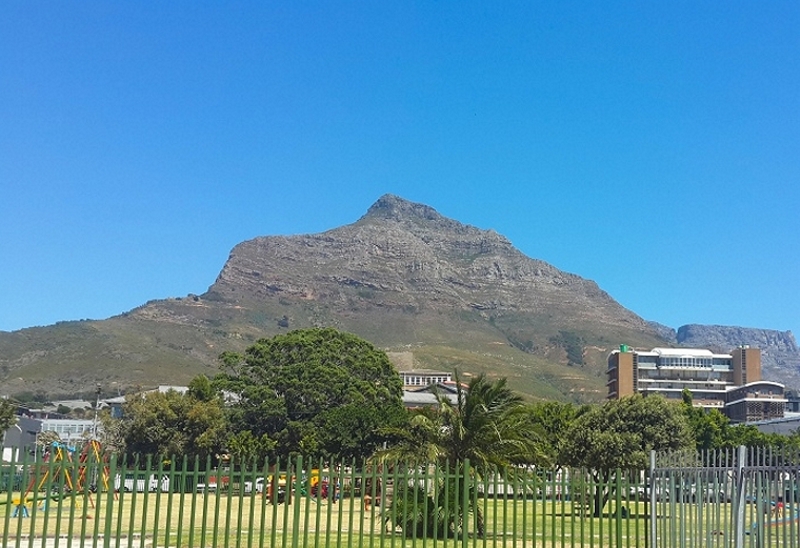 The price is dependent of how long you would like to volunteer for.
Minimum time period is 1 weeks.

Includes:
Pre-arrival support, Airport transfers, Welcome brief, Orientation, Accommodation, Name Badge, Transport to your project on your first morning only, In-country support, Certificate, T-shirt
Excludes:
International Flights, Insurance, Meals, Transport to and from the project every day

Please note that maps shown are a rough guide. Exact locations and routes might differ slightly to what is shown. Please refer to the tour itinerary for a more precise route.