14 day Kruger and Mozambique Overland
ENDING POINT:
JOHANNESBURG
The perfect way to experience the beautiful beaches of Mozambique and also get in some great wildlife sightings in Kruger National Park.
Starting in South Africa and heading straight to the famous Kruger National park in search of the big 5 before heading down to Swaziland. From Swaziland you will make your over to Mozambique's capital of Maputo, where you will start heading North up to the Inhambane are and Vilanculos. Both famous for their white sandy beaches and amazing snorkeling. Finally making your way back into South Africa and heading back to Joburg where your tour ends.
This adventure overland and African budget safari combination is the perfect way to experience the best of both worlds.
14 day Kruger and Mozambique Overland
Day 1
Johannesburg – Greater Kruger National Park
Today we start our adventure travelling towards the Kruger National Park region where we will be spending the next three nights absorbing all the wonder that the wildlife in that area has to offer. Optional Activity: Sundowner game drive
Optional Activity: N/A
Day 2
Kruger National Park
Truly the flagship of the South African national parks, Kruger is home to an impressive number of species: 336 trees, 49 fish, 34 amphibians, 114 reptiles, 507 birds and 147 mammals. Today you will have the opportunity to participate in a full day 4×4, open safari vehicle game drive through the park. If you do not participate in the 4×4 game drive, your guide will take you on a game drive through the park in our truck. Our truck gives us an elevated view and increases our chance to spot the animals but is restricted to the main roads.
Optional Activity: Evening Game Drive
Activity Package: Full Day 4×4 Game Drive Kruger National Park
Day 3
Kruger National Park
Today we will explore the natural wonders found along the famous Panorama Route, known as one of South Africa's most scenic drives. The Panorama route consists of Bourke's Luck Potholes and the Blyde River Canyon including God's Window and Three Rondavels. This evening you will have one last opportunity to participate in an optional evening game drive.
Optional Activity: Morning Bush Walk, Evening Game Drive
Day 4
Kruger National Park – Swaziland
We wake up early and enjoy our final game drive as we make our way out of the Kruger National Park and onto Swaziland. At over 30000 hectares Hlane is Swaziland's largest protected area. Originally the private hunting area of the Swazi Royal family the area is now held in a trust and managed by Big Game Parks.
Optional Activity: N/A
Day 5
Umphakatsi, Swaziland
The Hlane Umphakatsi (chief village) is an authentic, living homestead and this morning you will have the opportunity to be experience the way of life, culture and traditions of the Swazi nation. The Swazi people have a rich cultural heritage that is transmitted by mouth from one generation to the next. This afternoon you will have the afternoon free to enjoy the many optional activities available in Hlane.
Optional Activity: Sunrise/Sunset Game Drive
Day 6
Maputo
Maputo, previously known as Lourenco Marques before independence is the capital & largest city of Mozambique. Often described as Africa's "Latin" city, Maputo is truly an African capital like no other. Upon arrival in Maputo, our guide will take us on a short drive through the city. Tonight we will stay in this vibrant city and will enjoy a meal out together.
Optional Activity: Dinner Out Maputo
Day 7
Maputo – Inhambane
Departing early, we say farewell to Maputo and travel further north through coconut plantations to the old Portuguese settlement of Inhambane. This coastal region is very relaxing and boasts incredible beaches. We spend the next three nights in our accommodation right at the beach.
Optional Activity: N/A
Day 8
Inhambane
As we will be spending tonight in Inhambane, you have the entire day at your leisure, to participate in one of many activities available here and to explore the area. In the afternoon, your guide will drive you to Tofo, where you can explore the local market and this quaint seaside village.
Optional Activity: Inhambane Snorkeling, Ocean Safari and Snorkeling
Day 9
Inhambane
Reported to be home to the largest juvenile whale shark population in the world, Praia do Tofo is amongst the best spots in the world where you are able to participate in an ocean safari, where you will have the opportunity to snorkel with these gentle giants of the sea. Apart from the whale sharks, you may also encounter manter rays and dolphins during your ocean safari. Take advantage of your day at leisure by joining in on an optional ocean safari.
Optional Activity: Inhambane Snorkeling, Ocean Safari and Snorkeling
Day 10
Inhambane – Vilanculos
We will enjoy a short tour of Inhambane, before heading north to the town of Vilanculos. Bazaruto Island is Mozambique's premier destination and it's not hard to understand why. A protected area, the sea-life here is spectacular and snorkeling at one of the reefs is one of the best ways to enjoy it. We will arrive in Vilanculos in the late afternoon and after settling into our accommodation, will be briefed on our Bazaruto excursion the following day.
Optional Activity: N/A
Day 11
Bazaruto
The Bazaruto is one of Southern Africa's largest marine parks and we will spend the day exploring the area where you will have the opportunity to snorkel, swim and explore the island. We depart from Vilanculos in the morning and will head to 2 Mile Reef for some snorkelling followed by lunch on one of the islands.
Optional Activity: N/A
Activity Package: Bazaruto Day trip
Day 12
Bazaruto – Xai Xai
The town of Xai Xai lies just north of Maputo, situated on the banks of the Limpopo river. It is a bustling town with markets, shops, restaurants and bars. We will spend our final night in Mozambique in this seaside village, preparing for our journey back to Maputo.
Optional Activity: N/A
Day 13
Xai Xai – Crocodile River
Today we bid farewell to Mozambique and re-enter South Africa, making our way to Marloth Park, a wildlife sanctuary situated on the southern boundary of the Kruger NP. As the Crocodile River forms the boundary between Marloth Park and the Kruger Park, you may be lucky enough to spot elephants occasionally playing in the river.
Optional Activity: N/A
Day 14
Crocodile River – Johannesburg
Our final day of our tour starts off with a morning game drive before we head back to the hustle and bustle of Johannesburg. Your tour ends upon arrival in Johannesburg at Belvedere Estate.
Optional Activity: Dinner at a Local Restaurant
Activity Package
Listed below are activities and highlights that form part of an "Optional Activity Package". You will need to purchase this package if you would like to partake in what we consider to be "essential activities" on our tours. The Activity Package has been written into the itinerary of the tour so please keep this in mind as if you don't book the package, the activities won't be included. We suggest that you prebook and prepay for your Activity Package to ensure availability.
Full day 4×4 Game Drive Kruger National Park
Bazaruto Day Trip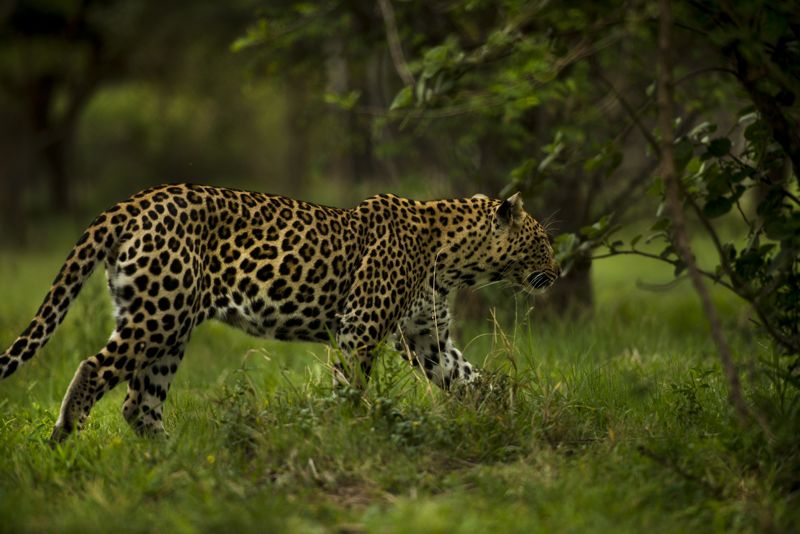 Camping – R18350 excl Activity Package

Camping Single Supplement – R2260

Camping Activity Package – R3600

Accommodated – R22750 excl Activity Package

Accommodated Single Supplement - R4250

Accommodated Activity Package – R3600
Includes:
Meals (Breakfast x 13 / Lunch x 8 / Dinner x 12) (unless otherwise specified, all meals are prepared and served at the truck), accommodation, guides and transport
Excludes:
All items of a personal nature, entrance fees, alcohol, soft drinks, bottled water, snacks, souvenirs, tips, activity package and optional activities
Please note that maps shown are a rough guide. Exact locations and routes might differ slightly to what is shown. Please refer to the tour itinerary for a more precise route.