8 Day Windhoek to Vic Falls Overland Safari
ENDING POINT:
VICTORIA FALLS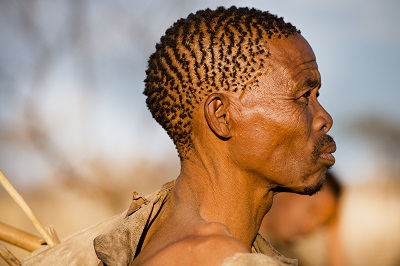 This 8-day tour is a perfect mix of culture, wildlife and nature.
The tour starts in Windhoek, from where you will travel through the Kalahari Desert to Ghanzi in Botswana. You will meet the San people here and enjoy a dance evening as well as learn about the San culture and community. The next day, you will travel further to the amazing Okavango Delta to jump into a mokoro (traditional canoe) and enjoy the incredible beauty and abundant wildlife of the delta. You will also visit the Chobe River for a spectacular sunset cruise where you can expect close encounters with elephants, hippo and crocs. The final destination of this tour is the mighty Victoria Falls.
This trip is also available in reverse order if you wish to start in Victoria Falls and finish in Windhoek.
8 Day Windhoek to Vic Falls Overland Safari
Day 1
Windhoek – Ghanzi
After meeting your guides, we travel east and make our way to neighbouring Botswana and the Kalahari Desert. Starkly different to the Namib Desert after which Namibia is named, the Kalahari is no less dramatic and covers over 900 000 square kilometres. The San people have long been associated with this harsh environment and tonight we enjoy a dance evening that provides an insight into their culture of song, dance and story-telling.
Meals Included: Dinner
Day 2
Ghanzi – Maun
The San people have existed in some of the harshest conditions for thousands of years and this morning you will have the opportunity of joining an optional walk with San guides to learn how they embrace the environment to survive. This afternoon we journey to the banks of the Okavango River, our launching pad for the Okavango Delta excursion. Your guide will brief you on what to pack for the Delta excursion, a small daypack or overnight bag will be needed due to space restrictions for our transfers to and from camp.
Meals Included: Breakfast, Lunch, Dinner
Optional Activity: Walk with San guides
Day 3
Maun – Okavango Delta
Today we embark on our Okavango Delta excursion. This unique and unusual ecosystem sees the annual flood waters of the Okavango River fan out into the sands of the Kalahari Basin. The seasonality of the flood waters lends the Delta its ever-changing character. While water levels may fluctuate the tranquillity of this wilderness area remains constant.
Meals Included: Breakfast, Lunch, Dinner
Day 4
Okavango Delta
A full day is set aside to enjoy the activities on offer in the Delta, while the programme of activities is flexible to accommodate the seasonal changes, you will have the opportunity to enjoy amongst other activities traditional mokoro rides and natures walks. The Okavango Delta is not only a natural wonder, but represents one of the last great wilderness areas in the world today.
Meals Included: Breakfast, Lunch, Dinner
Optional Activity:
Day 5
Okavango Delta – Caprivi Region
Leaving the Delta behind us this morning we make our way to the border and re-enter Namibia. As we transit through the Caprivi Strip, much of our day is spent travelling through Game Parks and there is always the possibility of a lucky sighting. We overnight a short distance from the Botswana border as we prepare for an exciting day of activities in Chobe National Park tomorrow.
Meals Included: Breakfast, Lunch, Dinner
Day 6
Caprivi Region – Chobe National Park
We enjoy our breakfast in Namibia this morning before returning to Botswana and our camp on the banks of the Chobe River. Lunch will be served from the truck and the afternoon is set aside for exploring the Chobe National Park. We begin our exploration in 4×4 vehicles, which allows us an up close and personal experience with the many Elephants that frequent the River in the afternoons. The afternoon ends with a leisurely Boat Cruise and a meal served around the campfire.
Meals Included: Breakfast, Lunch, Dinner
Day 7
Kasane – Victoria Falls
With the memories of our wildlife encounters firmly etched in our minds, we cross the border in Zimbabwe this morning and travel the short distance to Victoria Falls. Today we visit the spectacular Victoria Falls, also known by the local name of "Mosi-oa Tunya" (the smoke that thunders). While much of today is dedicated to viewing the mighty Zambezi River as it drops into the Batoka Gorge below, the bustling adventure town of Victoria Falls also offers a range of optional activities for those wanting a dose of adrenaline in the afternoon. For the more relaxed traveller there are craft markets and coffee shops on offer as well. Tonight, we enjoy an optional dinner out, your guide will assist you to decide on the many options available.
Meals Included: Breakfast, Lunch, Dinner
Optional Activity: Dinner at Victoria Falls
Day 8
Victoria Falls
With the many activities on offer in Victoria Falls, today is the perfect day for the adventure that most suits your style. Whether rafting the mighty Zambezi River or enjoying a flight over the Falls, this is your day to enjoy the many attractions on offer in Victoria Falls.
Meals Included: Breakfast
Optional Activity: Zambezi Sunset Cruise, Bungee Jump – Solo, White Water Rafting, Helicopter Flights, Zambezi Sunset Cruise
Activity Package
Listed below are activities and highlights that form part of an "Optional Activity Package". You will need to purchase this package if you would like to partake in what we consider to be "essential activities" on our tours. The Activity Package has been written into the itinerary of the tour so please keep this in mind as if you don't book the package, the activities won't be included. We suggest that you prebook and prepay for your Activity Package to ensure availability.
Okavango Delta excursion
Okavango Delta excursion
Chobe National Park game drive
Chobe National Park boat cruise
Vic Falls National Park entry
Camping – R10950 excl Activity Package
Camping Single Supplement – R630
Camping Activity Package – R6760

Accommodated – R12750 excl Activity Package
Accommodated Single Supplement – R2680
Accommodated Activity Package – R18670
Includes:
Meals as specified, accommodation, guides, included highlights and transport.
Excludes:
All items of a personal nature, entrance fees, alcohol, soft drinks, bottled water, snacks, souvenirs, tips, activity package and optional activities.
Please note that maps shown are a rough guide. Exact locations and routes might differ slightly to what is shown. Please refer to the tour itinerary for a more precise route.