We recently sent two of our staff on our new 3 day Kruger and Panorama Route classic safari. Needless to say they had an amazing time and couldn't stop talking about their trip. Below is a recap of their journey along with some special photos they managed to capture along the way.
I recently had the incredible privilege of accompanying my partner on the 3 day Kruger and Hazyview classic Safari tour.
Flying out of drought-stricken Cape Town and into Joburg, we were collected at the airport and taken to our accommodation, where we were told we could even have a BATH. We opted for an early night, and woke up at 6am the next day to be picked up.
As an Eastern Cape girl I'd always imagined Joburg and the Kruger were a stone's throw from each other – turns out they're actually nearly five hours apart. Our drive was pleasant though, stopping at Milly's trout stall for their famous trout pie (I wasn't brave enough, and opted for a burger).
Driving out of Gauteng province and into the lush, mountainous Mpumalanga was a stunning experience. Our accommodation was in the little town of Hazyview, a quick drive from several of Kruger's gates, but far away enough to be peaceful and spacious. We were given a charming little chalet with a thatch roof and en-suite bathroom, and had a few hours to relax and explore before an evening game drive. The lodge had multiple swimming pools and splash pools, shady lawns and big old trees with vervet monkeys playing in the branches.
The afternoon game drive started at the Phabeni gate, and within the first five minutes we'd spotted our first wildlife! Impala, or as our guide Steven called them, 'the MacDonald's of the bush.' They're everywhere, and a good snack for the bigger game we hoped to see. We drove through the park with big eyes and cameras out, while Steven gave us quick facts and stories about the animals, and stopped to exchange information with the other guides – we quickly realised this was a HUGE benefit of a guided tour in the Kruger, as Steven seemed to miraculously pull wildlife out of a hat for us – we saw Impala, Zebra, Elephants, Hippos, Crocodile and even a majestic Fish Eagle all in the few hours before sunset. We returned to the lodge happy and hungry, for a meal and some drinks at the lodge before bed.
The next day was another early start, and we prepared for a full day in the park – hats, snacks and SUNCREAM! We drove in through the Numbi gate, and made our way up to the Skukuza area of the park. Steven was wonderful once more, sniffing out animals and spotting things on far off hillsides with some kind of x-ray vision. We also had the incredible close up experience or driving past a pack of hyena sleeping just metres off the road, with a baby hyena bored by the adults and sniffing around near the truck. We had multiple encounters with elephants on either side of us and walking across the road, rhinos skulking in the bushes nearby, and countless zebras eyeing us with stripy nonchalance. The most exciting encounter began with a crackle on our guide's radio – he sat up, told us to hold on, and took off at a speed that may or may not have been over the limit. By this time we'd seen almost all of the Big Five, so we were taking bets about what would call for this kind of hurry – we drew up to a cluster of trucks on a stretch of road and our guide wove in and out and around until we drew up at the front and saw – a LEOPARD, stepping out of the bushes as everyone held their collective breath. She sauntered across the road and into the opposite bush, and just as we all exhaled, ANOTHER smaller leopard streaked in front of us to follow her.
We returned to the lodge utterly triumphant – we had ticked off all of the Big Five, and seen countless smaller animals and birds, from the endangered Southern Ground-Hornbill to the baby vervet monkey that was playing outside our chalet window when we got back.
Dinner that night was a celebration, and the lovely staff of the lodge treated us to a song and dance routine to say goodbye. The next day we took off for the Panorama Route!
We drove through leafy forestry plantations and wound our way higher and higher up the escarpment towards our first stop, God's Window. We stopped in a parking lot filled with local arts and craft curios, and after a 10 minute uphill walk through forest, we emerged into a little clearing on the side of the hill, with possibly the best view I've ever experienced. A sheer drop off directly ahead, and the hills of Mpumalanga stretched into the distance, under an impossibly blue sky. We all paused, breathless and breath taken.
A little further up the hill the forest changed to rainforest, and those of us who chose to adventure further walked through ferns, moss and clusters of vivid orange flowers – an incredible little microclimate. We reluctantly made our way back to the car, and to our next stop, Bourkes Luck Potholes!
This incredible site is a collection of gigantic potholes at the meeting point of two river canyons. We took lots of photos of the bizarre and beautiful rock formations, wet our hair in the fresh water, grabbed a snack at the café and continued to the Three Rondavels viewpoint.
I hadn't paid much attention to the itinerary so far, and was expecting to see three actual rondavels, or round thatched huts – I didn't quite understand the fuss but was happy to go along anyway. Instead, I was taken to a viewpoint that looked out over the entire splendour of the Blyde River Canyon, with a looping blue river winding through hills that rose into massive dolomite rock formations shaped like 3 rondavels – definitely much better than what I was expecting and a good contender against Gods Window for "best view".
On the return trip to Joburg we stopped for lunch in Dullstroom. We went to the famous Harrie's Pancakes for some really excellent and unique pancakes and then explored the quaint town for a bit. We bought a big bag of delicious biltong and loads of fresh macadamia nuts for the road and prepared for the long drive back to Johannesburg.
By the time we reached Joburg we were both exhausted and completely content. We had seen more wildlife than we could have imagined and were taken away with the sheer beauty of Mpumalanga and the Panorama Route.
Is Kruger on your bucket list yet?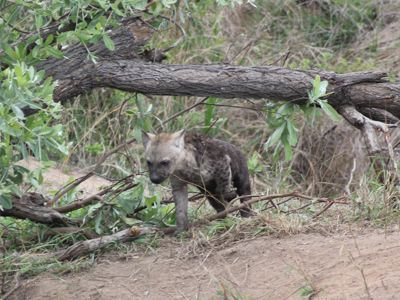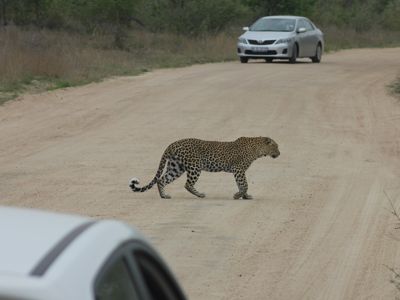 Find Out More About This Fantastic South African budget safari by following the link below:
Article And Photos by Melissa Fourie