While staying at Ashanti Lodge in Cape Town is a special experience in itself, backpackers are always looking for those extra unique experiences to complete their trip. There are many amazing tours that can be booked in Ashanti Travel Centre, but one in particular caught our eye recently. Snorkeling with Cape Fur Seals in Hout Bay is definitely a unique experience and a must when traveling to Cape Town.
Hout Bay is only a short trip out of Cape Town and is absolutely beautiful! As soon as everyone was kitted out in their wetsuits we were ready to go! We took a short boat ride out to Seal Island, also known as Duikers Island, where there is a colony of thousands of Cape Fur Seals. We saw many seals sunbathing on the rocks and as soon as they saw us they began to slide and dive into the water! So we got our masks, snorkels, and fins on. There were also a few scuba divers on our trip, so we waited until they got ready and got in the water.
We had no clue what we were in for when we finally dove into the water. Yes, the water was cold, but we soon forgot about that because of the amazing time we were having! There were seals swimming all around us and staring at us with their big, beautiful eyes. It was a moment I will never forget. It was amazing seeing the seals swim around and how they interact with each other and with us. They would swim and float together like they were hugging and then dart all around through the seaweed on the ocean floor. They truly are very curious creatures, we even had one very cheeky seal that decided to do a bunch of flips around us and eventually bite me on the bum! Do not fret though because our guide said they hardly ever behave in this way. Although I was a little spooked I got some awesome shots of this particular seal because he actually tried to bite the camera too! It was awesome to experience this rare interaction. I forgot any fears and was the last one in the water. I absolutely loved it!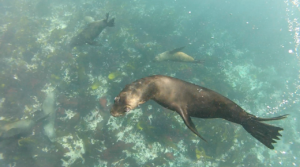 It's fun to just watch seals sunbathe and slide all over on their bellies, but swimming with them is such a unique experience. Being in their world is something I will never forget. This was definitely an experience I recommend to any person traveling through Cape Town or the whole of South Africa for that matter. I would definitely do this trip again but try scuba diving instead.
You can book your seal excursion through Ashanti Travel Centre below. Take a dip into the Cape Fur Seal's underwater world and you won't regret it!