MASAI MARA NATIONAL RESERVE
Kenya's wildlife jewel in its crown can only be the renowned Maasai Mara National Reserve which is adjacent to the Serengeti National Park in Tanzania. Located on the South Western border of Kenya, this reserve is fenceless, sharing its unofficial borders with a variety of other conservancy areas like the Serengeti. Home to the traditional semi-nomadic Maasai tribes and the awe-inspiring Wildebeest migration, the Maasai Mara is the flagship of game safaris in Africa. Its large cat population is also impressive.
The annual migration of wildebeest, zebra and other buck is quite a sight to see not only in its magnitude but nail-biting as you watch nature takes its course as the buck try evade the waiting crocodiles and hippo in the rivers and avoid other predators that come out for a feast.
Viewing from the air is very popular, and hot-air balloon excursions offer a quiet birds-eye view of the magnificent vistas of the Mara.
Safari overland adventures can include a trip to Lake Nakuru which is one of the Rift Valley's soda lakes and well known for millions of flamingos, bird sanctuary and Big Five spotting.
The Maasai Mara is also home to other wildlife apart from the traditional Big Five like giraffe, grey jackals, baboons, foxes, hyena, impala, warthogs, and hartebeest. Over 450 species of birdlife is known of which almost 60 are birds of prey so a birdwatchers dream!
Once you have exhausted game viewing, a visit to one of the traditional Maasai villages is a highlight where one can actually live with the tribe in a homestay environment, overnighting in huts, participating in food preparation and even taking cattle out to pasture!
Ashanti Travel Online focuses on offering the best Kenya budget safaris, so contact us to assist you with planning your trip to this wildlife haven.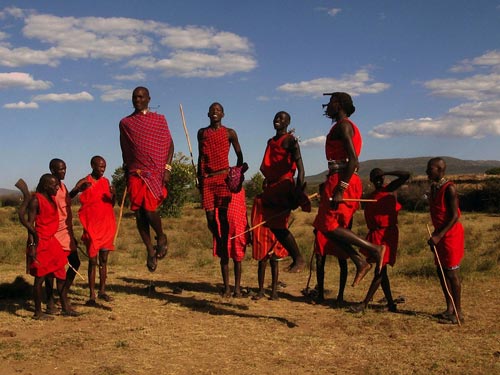 Are you planning a trip to Africa, but you are not sure what you want to do? Don't worry, we have put together a bucket list of the top "not to miss" attractions just for you! This bucket list contains some of the most wonderful places in Southern Africa and East Africa, including amazing countries like South Africa, Namibia, Botswana, Zimbabwe, Mozambique, Zambia, Malawi, Tanzania and Uganda. Our top 10 African experiences range from gorilla trekking in Uganda, to hiking up Dune 45 in the desert of Namibia, and searching for the big five in Kruger National Park. Start reading [...]
Please note that maps shown are a rough guide. Exact locations and routes might differ slightly to what is shown. Please refer to the tour itinerary for a more precise route.