UPDATE: With the help of both tourists and locals, Cape Town has managed to save water and hit our targets. Resulting in day zero being pushed back to 2019. If the rain comes this winter our drought will finally be over. A big Thanks you to every one that helped.
The talk of Day Zero – the day the taps run dry – has many tourists worried about visiting Cape Town. Before you cancel your long awaited holiday to this beautiful city, we'd like to address these concerns.
Firstly, Day Zero is not a definite. It's a warning about what will happen IF we all keep watering our lawns, taking romantic Valentines day bubbles baths and letting the taps run while brushing our teeth. If the local community and our visitors don't join together and reduce our overall tap consumption to under 450 million litres per day, THEN the taps will run dry.
BUT avoiding this is something we can easily achieve if we work together. At the time of writing this article the predicted Day Zero date has already been pushed back by one month from the 12th of April to the 12th of May. This is largely due to changes that the people of Cape Town are already making – we're driving dirty cars, taking 1-minute showers, and letting that yellow mellow. We're also finding alternative water sources and educating our visitors on how to be water wise. Check out this blog on how to save water ….
But of course, it pays to be prepared for the worst case scenario, so even if Day Zero does eventually happen, we at Ashanti Lodge are still prepared.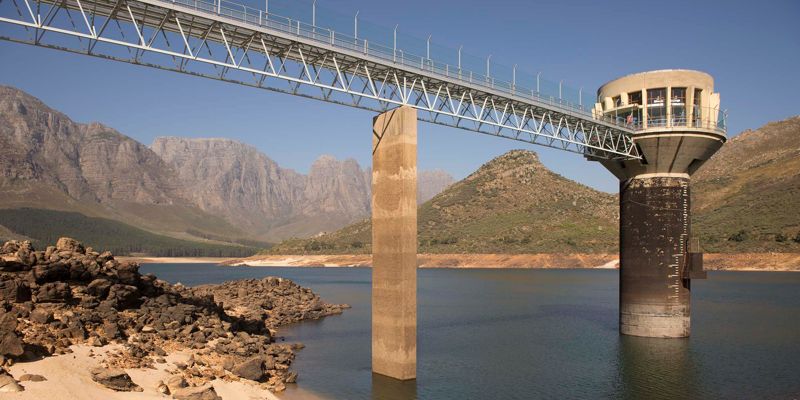 The Cape Town Water Crisis and How We Avoid Day Zero
Tourism forms a major part of South Africa's GDP, and Cape Town is (understandably) one of the main reasons you all keep coming here. If even half of the 1.8 million people who visit us every year decide to go elsewhere, we'd be facing an economic crisis on top of our water crises. So save us all our jobs and companies, and carry on reading…
The tourism industry is doing everything it can to be as water neutral as possible. Like many other lodges in Cape Town, Ashanti Lodge has found an alternative source of water that draws off the mountain rivers and underground springs running below the city.
This removes the strain on the city's dams and also means that IF Day Zero happens and the city's dam water runs dry, we will STILL be in business, our doors will be open and we will have water.
At Ashanti Lodge we have multiple systems and backups in place:
We have signage all over the lodges with tips on how to save water like a local.

Replaced all liquid soaps with hand sanitiser to reduce water usage

We have buckets in all showers to collect water while you shower, which we then transfer to the toilets for flushing.

We have a rain water collection system that assists in recycling the back-wash from our pool, allowing us to keep our pool full.

We have a grey water collection system that is used for watering plants and flushing toilets.

Most importantly, we have our own source of water that can be used as a back up IF day zero does ever happen.

and in the unlikely event that all else fails… There is always the ocean! 🙂

It's important to remember that this is an 'if', not a 'when' situation. But even IF day zero happens, our combination of systems and readiness means that we will always be open for business and welcome all local and international guests to come stay with us. So rebook your flights, repack your swimsuit and come join us in the sun – we may not have water at times but we'll always have wine!
Check out our Cape town accommodation and tours below: